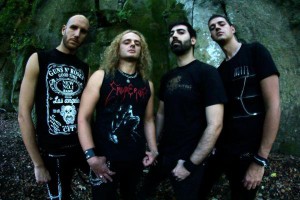 LYKAION is an Italian Dark metal band whose style links to the interrupted project of '90s gothic metal bands, re-reading it in a unique way, including influences from new hard rock/sleaze Swedish sounds and the romantic/decadent vision of bands like Him, To Die For and Katatonia. "Heavy Lullabies" is the band's second album, and it represents a firm step forward compared to the debut album "Nothin' but death".
The result is a perfect balance between scratching sounds and straightforward melodies who will easily stick in your head after just one listening, in a perfect range from ballads to heavier songs. The band promoted their music with prestigious live acts, opening for DEEP PURPLE, KREATOR, MOONSPELL, BEHEMOTH, DRAGONFORCE, HUNTRESS, KISSIN DYNAMITE and many more.
"Heavy Lullabies" is released February 6th by a Finnish label Inverse Records.
Line-Up:
Alessandro Sforza: Vox, guitar
Fabio Valentini: guitar
Valerio Lippera: Bass
Andrea Alberati: Drums
Discography:
2005 – Behind a Whisper (demo cd)
2006 – The Thing's I've left (demo cd)
2009 – Swallowed by the Sea (demo cd)
2012 – Nothin' but Death – Bakerteam Records (LP)
2015 – Heavy Lullabies (Inverse Records)