A – Autumn landscape Estonia has a lot of places where you can enjoy the autumn. I don't feel too sad about the summer ending. Autumn's beautiful too in Estonia. Especially if it's another "indian summer".
B – Books I have to admit that recently it's been almost impossible to find time to read but whenever I can I'll reach for a history book. The events in Estonia during World War II are mainly in my orbit of interest. Also the time preceeding those events up until World War I interests me a lot.
C – Czech republic (Do you know our state?) It's pointless to ask an Estonian whether he knows such a country as Czech. Who hasn't heard or read about the adventures of the soldier Svejik? I don't know whether it's the splendid humor, excellent beer or the beautiful architecture of Czech towns but there's plenty of the country's fans here. I'm not a saint either. Add to everything mentioned before a couple of very good Czech metal bands like ROOT, TÖRR and MASTER'S HAMMER. LOITS has performed twice in Czech and at the first chance we get we'll come again. Maybe we'll succeed in that already this year.In association with Czech our people's memory also has a couple of painful moments. Promptly after the end of World War II many young Estonian men who had served in the German army were killed by Czech communists. An expression "Czech hell" has come out of these events. My grandfather's brother and my namesake also went missing during those times.
D – Drinks (your favorite drinks) Mostly it's light beer. But LOITS has a tradition of bringing along a liquor called "Minttu" on it's longer journey's. That 50% vol. Peppermint flavoured beverage flows down the throat pure and stupifies you fast. 🙂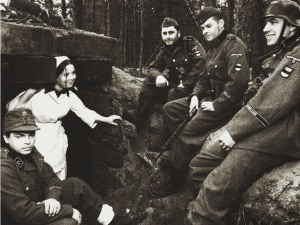 E – Estonian metal scene Everything you need to know about the Estonian metal scene, you'll find at the address www.estonianmetal.com. As an introduction I can say that it's the strongest scene in the Baltics at the moment of which' development has been mindblowingly fast in recent times. We have everything that must be present at a viable metal scene (a metal magazine in Estonian, record labels, metal festivals and pubs).Out of bands I recommend to check out the following: HORRICANE, MANATARK, METSATÖLL, MUST MISSA, THARAPHITA, HUMAN GROUND, FORGOTTEN SUNRISE, DAWN OF GEHENNA, ECHOSILENCE etc.
F – Food (your favorite food…or foods in Estonia) Still the same good old meat and potato. I'm not too picky and I don't have any favourites either. Recently I've become fond of more spicy foods and that's why I'm a frequent guest at Chinese restaurants.Estonian national dish doesn't differ much from the North-European cuisine. But we also have our peculiarities like kama and jellied meat etc.
G – Ghosts I'm pretty sure the apartment we're living in right now is haunted. Recently it's been more quiet (or totally silent) but when we moved in here about six months ago and the landlord passed away, quite a few things happened. I wouldn't believe it either if someone else told me about it.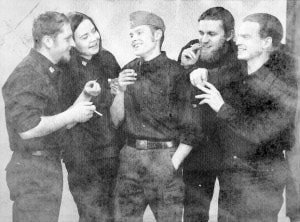 H – Hiiekoda (METSATÖLL album ) Being closely tied to Nailboard Records, my review of this album couldn't be too adequate now could it? Let's just say that the Töll surprised the entire local metal scene with the record and not just that. For me the album is perhaps a bit too long and the song structures are sometimes too chaotic but unarguably it's a unique masterpiece of which' success here in Estonia and hopefully abroad seems to be endless. I forsee a prompt gold record status for this album here.
I – Iraq One country and one culture can never rule the entire Earth. America is making a big mistake when it starts poking at and breaking customs and culture developed over centuries. Nothing but a mishap after another can come out of this. Greed will sooner or later claim it's price. The events of the 11th September showed us that the system which the Western economy is built upon is actually very vulnerable because it is not upheld by principle values of life. It's a bubble easily broken and one almost impossible to defend.
J – Jealousy As all other emotions and characteristics it's not been included in man without reason. Jealousy makes us alert and makes us work for a relationship. Thus it's a factor that if used moderatetly raises the standard of life.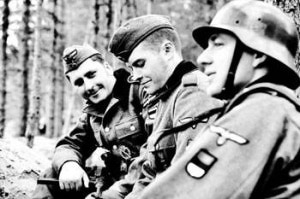 K – KREATOR (band) KREATOR is one of my childhood-favourites. "Renewal" on it's own was the last album that I really liked a lot. "Enemy of God" is again a nice surprise and it gives hope that Kreator might return to my list of favourites. I got the nickname 'Mille' cause my vocals used to sound like Kreator's once. They called me that for quite many years 🙂
L – LOITS (like a band) Flak`n`Roll in it's purest form! 🙂
M – METSATÖLL Unarguably the most famous metal band in Estonia. The fact that Metsatöll's "Hiiekoda" received an award in the best punk and metal album of the year category surely speaks for itself.LOITS and METSATÖLL have performed a lot together recently and we've become good friends. Also I doubt it's a secret that we share a drummer.
N– Norway black metal bands A lot of the underground metal bands today deny their Norwegian black metal influences. Loits has never done that. What happened in the beginning of the 90's in Norway shook and changed the entire black metal scene. Then again, I honestly don't want to hear new norsecore clones anymore but there are a few who can carry that style on with dignety. KHOLD for example.For me the aforementioned scene got really fascinating when bands like IN THE WOODS…, ULVER, ARCTURUS, VED BUENS ENDE…, FLEURETY, BEYOND DAWN etc. were created.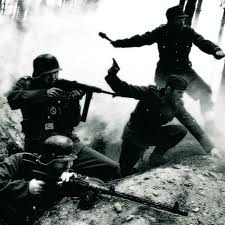 O – Open air fests A good opportunity for a pleasant pastime. To tell you the truth I haven't visited the bigger European open-air metal festivals and I can't say a word about them but the biggest festivals in Estonia and the Baltics have been pleasant experiences for me, both as a listener and a performer.
P– Pope and church The whole christianity thingy along with it's reactionism should already be a part of our collective memory. I like old churches on their own though. Both because of the architecture value and also because when entering an old church, time seems to stop or even rewind. However the whole ideological side doesn't suit to the nordic human nature. So to hell with the pope and everything that comes with it. 🙂
Q – Quiet places Many prefer to be on leave travelling or frying their asses brown in some overpopulated southern beach. To me the best vacation is time spent in nature or in a place near to it. This summer we spent our holidays in a farmhouse of my girlfriend's relative. I helped to roof-tile a new sauna and we went fishing. Pretty much an ideal vacation.
R – RAUD – ANTS (band) Another Estonian folk metal band. Nothing too special but they have their brighter moments. They are haunted by the same flaw that many of the other Estonian fol metal bands have. The folk part is good and interesting but the metal side is relatively low quality.
S – Stars and cosmos The thought of the dimensions of the world is eery and at the same time it's an endless source of inspiration. None of us knows exactly what's happening out there and do we really want to know all that bad? There's already plenty of mysterious and unexplainable here around us.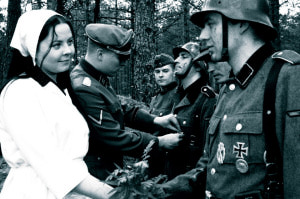 T – Tallinn By today I've been a city-boy for a bit longer than six months and so far I haven't had the urge to run back to the countryside screaming. Maybe it's because I live in a quite a beautiful place. To visitors I definately recommend to visit the Old Town of Tallinn. It's one of the best preserved among it's own kind and would be even more so if the Soviet forces hadn't bombed a large part of it to smithereens in 1944. Then again there are places in Tallinn where I wouldn't even send my enemy…
U – USA (and world´s politics) That topic got some attention before. The events of September the 11th showed that the state acting as a world police is very vulnerable and I'm quite sure that our eyes will yet see the very dark days of that country.
V – Vere Kutse Kohustab (LOITS album ) The dust raised with this album settles slow and that's the best compliment of all to a band. When here in Estonia we have achieved pretty much everything there is to achieve then abroad we are just breaking out. Time will tell wether this album survives the test of time as well as the last one, the one titled "Ei Kahetse Midagi". There are a lot of things that we'd do differently with the "Vere Kutse Kohustab" album today, but an artist satisfied with his work is a dead artist. Thus I believe that the next Loits album will be many times better than this one.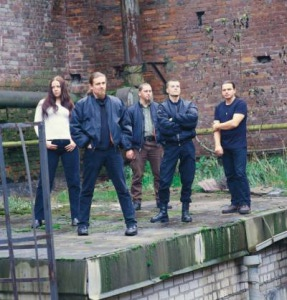 W – Wars The only competition man has left in the struggle for life on this planet is another man. So as extreme as it may sound, wars are a natural part of our lives and thus wars between different groups will never cease. Only methods of warwaging may change with time. The dividing of areas of influence during World War 2 and the Cold war are prime examples of how the idea of war changes with time and that it changes fast. Today silent wars are everywhere. Which doesn't mean that one day a ruthless bloodshed on vast territories may not happen again. The world has become so globalized that wherever larger flames of war arise, everyone on the planet will feel their influence.
X – Xmass in Estonia White snow, sleeping nature and candlelight. I prefer to move as close to nature as possible for christmas. Years ago I built a small cottage on the edge of a forest with my friends. Quite far from civilization. We've celebrated christmas there several winters and of those times I have the best memories of christmas. Generally christmas in Estonia has been a quiet and a family-centered event with it's specific traditions and food. In the distant past it was celebrated as the victory of light over darkness. Later the christians tagged it with their own interpretation. Did you know that the first big christmas tree was erected here for the townspeople's viewing pleasure in the Raekoja square in Tallinn in 1441? That might have been the first in Europe at that time, because for example in Berlin the first public christmas tree was erected in 1780 and in London it was 1840.
Y – Year 2005 and news on your life A real year of changes in my life. I quit my 7 year long job as an accountant in a small place called Kadrina and came to live in Tallinn. Now I have a family here and a new job as a manager of the "Nailboard Records" label.
Z – Zeal for music My parents have never been big fans of music. Thus I picked up interest towards music at a relatively old age myself (at 11). But the more eagerly I got into the music and it wasn't long before the first radio appeared at the house. And then the first guitar etc. By today I've completely devoted myself to music. As a dayjob I run a record company and on my spare time I play in LOITS.
ALL