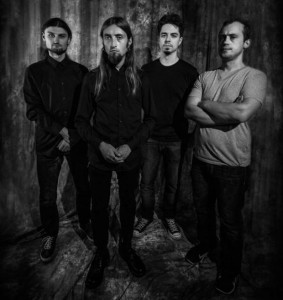 L'HOMME ABSURDE portray a mix of post-black metal with many influences from different metal genres as well as non-metal music, memorable melodic parts and lyrics about alienation and the search for our own identity, which is a characteristic feature of Russian culture. With "Sleepless", which can be considered as a logical follow-up to the band's debut "Monsters", L'HOMME ABSURDE showcase their deep influences within the hardcore/metalcore sound.
L'HOMME ABSURDE was started by A., a Russian musician formerly known as the drummer of Moscow's doom metal bands MARE INFINITUM, COMATOSE VIGIL and WHO DIES IN SIBERIAN SLUSH, as well as the mastermind of doom/downtempo band A Young Man's Funeral. In 2016 A. was joined by other members and together released their first self-titled demo. That same year L'HOMME ABSURDE recorded their first full-length album entitled "Monsters", which was released by Russian label Fono ltd.
In the beginning of 2017 the band started performing live and played their first show supporting Harakiri For The Sky. Later and up to the present time, L'HOMME ABSURDE played a lot of shows in their hometown (Moscow) and other Russian towns.