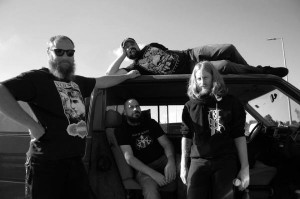 LETHVM (doom sludge – Belgium) has signed to label Deadlight (ORACLES, WITCHTHROAT SERPENT, PRIMAL AGE) for the release of their debut album "This Fall SHall Cease". Formed in Belgium during the year 2015, LETHVM delivers the perfect blend between hard boiled doom laden sludge and extreme metal. A few months ago, the quartet entered Noise Factory Studio (CHANNEL ZERO) to record their debut album entitled "This Fall Shall Cease" which release is set for the end of the year.
"I came to the knowing of LETHVM when I was attending Roadburn Festival 2016 where Cult of Occult was playing and they introduced to theses guys. Later in november 2016, I saw them live in their hometown in Belgium along with other bands like BATHSHEBA and I was totally impressed by their show!
To say I was impatient to listen to their album is an euphemism and I was quickly conquered by it when they came back to me when the album was recorded" says Deadlight boss Alexandre Martinez.