Rodrigo Poblete – Guitars
Before I start with the interview, tell us — how are you doing these days?
Hi there!!!!, Well, LAPSUS DEI meets doing the preparations of pre-production of the "In Our Sacred Places's" successor album, so we are to full with that. And take gigs at many cities for the tour of "In our Sacred Places" for Chile and Perú.
What means metal to you?
Well, sometimes we not want to admit it but, could being said that only it´s a way to canalize the music that we do, but in reality it´s much more, you see it in the day-to-day routine, in the parties, in the friends, inconciusly you makes a kind of life
How old were you when you started listening to metal? Was it easy to get into contact with this kind of music? What was the first metal record you bought?
I was not so young when I began to listen to metal, in fact, first I went into classical music, I did the 6 years at the conservatory (10 at 16 years old) . But in the course of time my friends began to give me those bad influences ha ha!!! In those times Internet not yet was massive, in fact it was almost stranger. So all did itself for letters, trade, person to person. It was not easy to get music metal. I remind that the first record that I bought was "Schizophrenia" of SEPULTURA brazilian band.
LAPSUS DEI… Why such band name?
Name means the gods's error. It is a metaphor to than in the Earth, nothing is perfect, and the man is maximum imperfection. If the man is made like God, then God also is imperfect!, If the fact is that he exists ….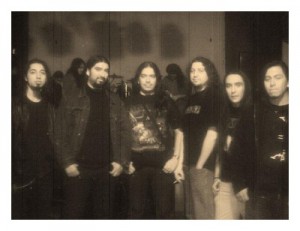 Many of our readers might not know much about LAPSUS DEI – please tell us a bit about yourselves. A little bit of history for metal-heads in our country?
Sure!, Lapsus Dei was born on 1998 like a doom gothic band for few years, but more or less from 2003 the band changed by a doom/death style, and few members went away … LAPSUS DEI, today, play a brutal doom metal, we have an a demo (2001 Dibujando mi Karma), two EP (2003 "When a dead Cries for his soul…" and 2011 "In Our Sacred Places") and and full album (2006 Beyond the Truth). LAPSUS DEI play live so much, today we are on tour for southamerica for In Our Sacred Places work, if you go for a gig.. you will not come out disappointed!!!
What would you say, in which way has your style of music changed since the foundation of LAPSUS DEI?
The change of music should directly, at change of members, When the keyboard (Marcela) went away, we lost the equilibrium of gothic and death. And our pleasure for the death the metal was bigger than gothic in the band, so, in next changes of members, was some looks like.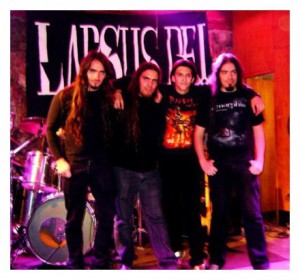 How would you describe your musical progress over the years?
A constant evolution has been for us. We are very happy with the maturity that we have been able to get on recordings. This never will finish!. Now we play a mixture of death, doom, progressive cold and brutality!
How would you describe your position in the wide-world metal scene? What do you think about the underground movement?
I believe than LAPSUS DEI has too much to offer at the worldwide scene, we have the conviction that our music is a real contribution. We hope that more and more people will listen to our work. Today, with the globalization, the scene underground just as was before, disappeared. Now it has turned into a great worldwide scene, with little bands and big others, just that.
Tell me about your local zines, labels, radio shows, distributions…
Metal magazines in paper form is no longer more, just in wezines, but there is very good metal labels, many radios with metal shows. Also they do too much national and international gigs (ARCH ENEMY, MOONSPELL, CARCASS, ANATHEMA, KATATONIA, PARADISE LOST, FINTROLL bla bla bla). And the Chilean bands are incredible!! The chilean scene is quite professional and moved … only hope that the scene jump for another continents.
Tell us something about your everyday life… Do you study, work, sell your ass, stole the money to old women, sell drugs to the children or something else? And about your hobbies besides playing metal music…
Ha ha, is very real that to sell drugs!!! so all in the band working in different matters. Drumer is an male nurse, the vocals is an Social Service Worker, he is studying an postgrade right now, I´m an informatic freaky and next year I´ll study Commercial engineering, the bass man works in a supermarket and studying Civil Construction. Our hobbies are the alcoholic metal parties, gothic and metal women oooohh fuck yeah!, some sports (basketball), riding in motorcycle, listen a tons of all kind of music!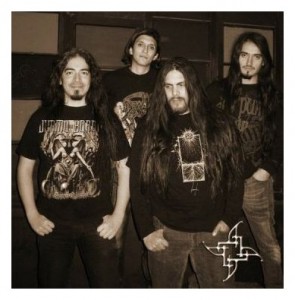 Our readers usually want to know what music you yourselves are listening to and whom do you consider your main influences?
We listened to very different music. The one belonging to other.. like… Vocals are doomy fan like MY DYING BRIDE or MAR DE GRISES, drumer listen to death, tech and thrash metal like ATHEIST, MESHUGGAH, I listen to death like HYPOCRISY, BOLT THROWER, classical, pop or triprock (like Björk, PORTISHEAD) and doom metal like NOVEMBERS DOOM, BLACK SUNn AEON. Bass player like tech metal like Obscura and other rare stuff.
What can we expect from your band in the future?
We waited with the whole heart to follow drunks, making music, don´t care if is doom, death, reggae or pop like OASIS (puajjjjj). And maybe play a tour in Europe next year.
Any final words?
Thank you so fucking much for the interview, stay doom and check our last news in our web links like http://www.lapsusdei.org/   or www.myspace.com/lapsusdeiband. Never leave your ideals, follow supporting metal all over the world !!! Cheer´s!
ALL