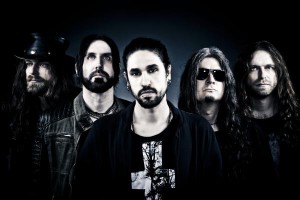 So, what do you do when you've already toured 29 countries, sold more than 100,000 records and played not just Berlin and Moscow, but also have Tokyo and Beijing under your belt? That's right, you carry right on with a single goal: to keep on getting better, rather than resting on your laurels. No wonder LACRIMAS PROFUNDERE count among the hardest touring bands of the genre, standing more than ever before for sweat-inducing and emotionally charged, unique rock shows.
With their singular mix of melancholy and Gothic paired with rock and metal influences from each of the band members, they set a milestone in harder Goth rock back in 2004 with their offering Ave End. Having sold out within three weeks, this limited edition has become a sought-after collector's item. Its successor Filthy Notes For Frozen Hearts (2006) saw the greenhorns establish once and for all their very special trademark sound. The musicians from Munich soon found themselves in the Media Control charts with airtime on rock and indie radio stations around the world, which even brought them to the attention of US Jackass star Bam Margera.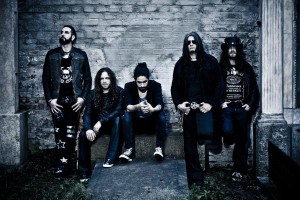 Having firmly established themselves as Gothic grandees and with the support of Rob Vitacca, their charismatic new vocalist, they continued to refine their unique sound on Songs For The Last View (2008). This album also evolved into a chart success, and while the track And Gods Ocean` was enjoying widespread exposure on national TV as the soundtrack to ZDF's Monday-evening drama Nightshift and the Dead Girl, as well as being covered alongside dozens of other versions on YouTube by the likes of Bam Margera and Alissa White-Gluz (ARCH ENEMY), and now with their Heavy Riffs and Rock-oriented successor The Grandiose Nowhere (2010) in place, the musicians set off for South America, Spain, Greece and their biggest adventure to date: their first headliner tour of China. Antiadore (2013), on which luminary Ricky Warwick (THIN LIZZY, BLACK STAR RIDERS) immortalized himself as guest composer, led to the next step on the ladder of success, namely their first world tour. With performances in Portugal, Belgium, China, Japan and Korea, not to mention a headlining position at the resurrected Wacken Roadshow, 2014 was once more characterized by the guys' greatest passion, the stage – however big, however far away, whether festival or backyard.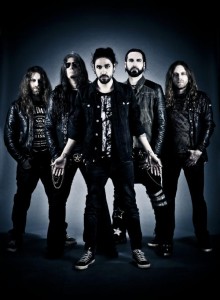 It's now 2016 and major changes are on the cards. With their new partner SPV behind them the band's first concept album is about to be released under the title Hope Is Here. "We've never done a concept before and it was quite a challenge, but once Rob started writing the story and got totally buried in it, there was simply no going back," explains guitarist Oliver Nikolas. "When you've got a concept you have to arrange it like a film, you have to follow certain moods and really think about where to put the faster, harder pieces and where the slower and sadder moments best fit in," continues the band's founder.
The band allowed themselves three years, and the final result reflects this: "We've never worked together so hard and so well as a unit," explains Oliver. In the past we've worked separately on the songwriting, practicing in short stints in the rehearsal room. On Hope Is Here they worked intermittently for three months perfecting the pre-production at the Engine Studios, allowing the material to take shape – letting their visions develop and grow. "One of the challenges we set ourselves was that every single note should hit the listener as hard as possible, inescapable," Oliver Nikolas explains. "We feel we've finally reached the next level."Indeed: with Hope Is Here the guys drag you out of your comfortable world, deep into a forest – to a boy named Aramis drifting through the dark trees, alone, forsaken, outcast, because he's not like other people. That's a summary of the concept – but there's plenty more to come…