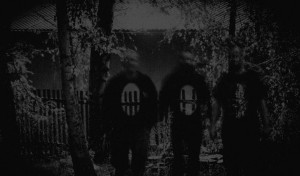 The debut album from Polish up-and-coming death metal act, Kult Mogił, is now complete and will be released at the end of this year through Pagan Records. The band has unveiled the artwork and track list of the full-length, entitled Anxiety Never Descending.
Made up of six new tracks, the music found on this album creates an atmosphere of a reeking graveyard; a soundtrack to your damnation and slow death. The band commented: We hope that – if we can put it this way this record will not make dying any easier for you. The ghastly music this group creates should appeal to fans of PORTAL, BÖLZER, DEAD CONGREGATION, CRUCIAMENTUM, NECROS CHRISTOS or CULTES DES GHOULES.
Regarding the band's name, the members explain that Kult Mogił does not translate to sepulchral cultâ. Instead, cult of gravesâ is more fitting and understood as a burial place with or without tombstones as opposed to the cult of dead ancestorsâ.
More details including the release date, pre-orders and the first sounds from the grave shall be announced soon. Watch out!
Anxiety Never Descending track list:
1. Anxiety Never Descending
2. Threnody
3. Serene Ponds
4. Początek Wrażeń
5. The Width of a Forehead
6. Palliative Messiah