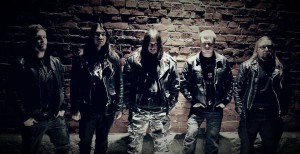 KRUOR was formed in 2005 by Ville Yrjölä and a past band member in Kuopio, Finland. After a few demos, we released our first full-length album titled "Origins" in 2011. After the release of the first album, Kruor almost immediately began to compose and create songs for the next one, that was originally planned to be released in 2013. But due to changes in the band's line-up, we had to push it to late 2014.
The new, second full-length album titled "Nightmares" is far more darker, violent and angrier than it's predecessor in it's theme. It sounds more heavy, old school, crushing and also more melodic, in a certain twisted way . The lyrics consist stories and expressions of horror, death, occultism, bitterness and general malevolence. The track "Witch Trials" features a guest vocalist, Finnish death metal legend Antti Boman (Demilich).
"Nightmares" was fully recorded in the same establishment where we rehearse and non other than band members were involved in that process. All the tracks were mixed and mastered by Simo Pussinen. The cover art was designed and produced by Joona Järvinen, who also drew the cover of our first album. Nightmares was digitally released 27.11.2014 in YouTube and SoundCloud. Physical copies are planned to be released in 2015 spring or TBA.
KRUOR current line-up:
Ville "Ykä" Yrjölä – Growl
Anssi Kinnunen – Bass
Juri Ruotsalainen – Guitar
Eppu Salolahti – Guitar
Tommi Kekäläinen – Drums
https://www.facebook.com/pages/Kruor/154169844638644?fref=ts