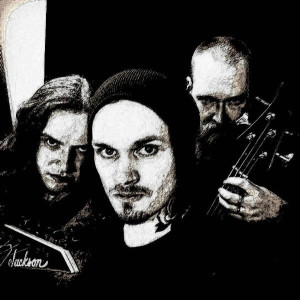 KORPSESOTURI is a death metal band from Helsinki, Finland. It was originally formed in 2014 but existing group was nailed 2016. Background of existing members consist several bands over the decades.
KORPSESOTURI is focusing to write death metal without being too fancy in musical aspect. Raw energy, dark lyrics in Finnish language and respect of old school death metal sounds spiced with different musical backgrounds of each band member.
The band made its first recordings several years ago but official released EP was made early 2017. Songs were released in all well-known digital music services (Spotify etc). EP was also released by Caco-Daemon records in cassette as limited edition in Europe and Japan
In the near future KORPSESOTURI is playing live shows whenever and where-ever it is possible. Full length album recordings are planned to be start in the end of 2017. Pre-agreement has been made with an underground metal label located in USA. Preliminary plan for the full length album release is spring time 2018.
KORPSESOTURI is:
(Line up on this recording):
Juha Ahlfors Bass + vocals
Oskari Koukka Drums
Pekka Rytkönen Guitars
Actual line up:
Juha Ahlfors Bass + vocals
Oskari Koukka Drums
Mikko Järvi Guitars