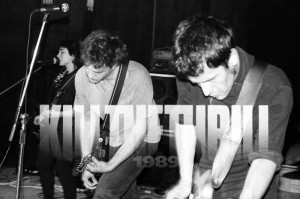 French outfit KILL THE THRILL was formed in 1989 and, although generally associated with the industrial music movement, has dabbled further afield in everything from alternative rock, to ambient goth, to darker new wave, and even all-out heavy metal. Needless to say, this brave eclecticism has led to a rather selective, if open-min- ded audience embracing their very sporadically released albums, including Dig (1993), Low (1996), 203 Barriers (2003), Tellurique (2005) and 1989 (The unreleased first album, 2015). At the time of Tellurique and now, Kill the Thrill comprised longtime members Marylin Tognolli (bass, programming, vocals), Nicolas Dick (lead vocals, guitar, programming), and Frédéric De Benedetti (guitar, vocals).
Formed in 1989, KILL THE THRILL played as support for KILLING JOKE, ZENI GEVA, BIG CHIEF, YOUNG GODS, EINSTUERZENDE NEUBAUTEN, LA MUERTE, NEUROSIS, JIM ROSE CIRCUS, GRÖTUS, TREPONEM PAL or CORONER, before releasing their first album in 1993.In 2015 Atypeek Music distributes on all digital platforms '1989' the unreleased original first album.
The debut album "DIG" is produced by David Weber (Tre-ponem Pal, Young Gods). In the same year they released the EP "PIT". As the group counts three musicians,they work with both a drum machine and samplers. In the years hereafter the band played at several French festivals and again toured through Europe. While KILL THE THRILL started as a trio, only Marylin and Nicolas recorded the second album. "LOW" is a balance of noise and quietness, with the impossibility to isolate one song from another. Over the years, songs of KILL THE THRILL were included on a high number of compilations. KILL THE THRILL are three again when recording "203 Barriers", its recording and production has been achieved by Nicolas Dick.
With "203 Barriers" KILL THE THRILL developed their music to a daring sound, disturbing and extreme. Kill The Thrill compositions have evolved with the band. Now fury is under control and melody's got a real place. Their next album « TELLURIQUE » out on Season Of Mist (May 2005) hits where it hurts, putting together an extremely cold and clinical indus/metal aspect with rock touches or even new wave, the whole thing bathing in a very melancholic atmosphere. This exacerbated trio is a symbiosis, an entity, their argument is simple :
nothing is flesh, universe is a sensation and we handle its unbearable rigor. Kill the thrill join the inexpressible, anger has no origine; when the events it is made of, body and waves, can't contain anymore patience and intelligibility, sounds become violence. They play the ambiguity… Atmospheric, heavy, deep and somehow innovative, Kill The Thrill on stage reach the point where, willing to fix vertigo, they hit a large crowdwith no age or style. « Tellurique » is an organic trip in which you have to enter to feel it's raw.