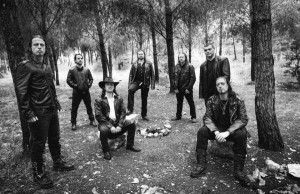 Between enchanting tenderness and brutality, amongst the fires of the underneath and the coldest fumes of the North, this is the being called WINTERHORDE. Emerged in Northern Israel back in 2001, the Progressive Extreme Metal group has been evolving, seeking to become something greater with each chord they play and record, and only the skies are the limit. Whether through ancient arts of blackened Metal through the gems of progression,
WINTERHORDE are on their way to be the next thing in articulate extremity. Throughout their career, almost spanning two decades, WINTERHORDE saw the battles on stage, performing locally in extreme Metal events and festivals, supporting acts such as DARK FUNERAL, MELECHESH, BEHEMOTH, CATAMENIA. Furthermore, WINTERHORDE shared stages in European festivals such as "OST Mountain Fest", "Metalhead Meeting", "Maximum Rock" with some of the greatest bands in Metal such as W.A.S.P, KEEP OF KALESSIN, ONSLAUGHT, NEGURA BUNGET, CREMATORY, AMORPHIS, BLOODBATH, SATYRICON and more.
Following the releases of their debut albuum Nebula (2006, Burning Star Records) and Underwatermoon (2010, Twilight Vertrieb – produced by V.Santura (DARK FORTRESS, OBSCURA, PARADOX, TRYPTIKON), WINTERHORDE completed their next mysterious epos, Maestro.
NEWS
Israeli Progressive Extreme Metal band WINTERHORDE will release their long-awaited studio album Maestro on May 20 through ViciSolum Productions. Combining vision with impressive musical expertise, the veterans orchestrated a powerful, epic tale of classical music and divine madness while drowning deep into the clutches of the underworld. Maestro is the band's strongest and most emotive powerhouse release to date. Prepare your ears for a true and deadly epic!
Maestro was once again produced and mixed by V.Santura (OBSCURA, TRIPTYKON, DARK FORTRESS, etc), with mastering handled by the renowned Jens Bogren (OPETH, SOILWORK, etc), and features guest appearances from Jiří Valter (ROOT) and Peter Huss (SHINING). With renewed energy running through their veins a potent new lineup WINTERHORDE are bound to spread their emotional darkness for those willing to feed upon the new album's magnificence.