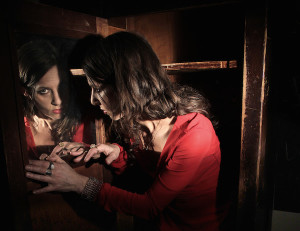 The debut album from New York based experimental/doom project INSECT ARK is released in Europe today, as the band prepares to embark on a US tour. Portal/Well is the result of a full year of work in composer/multi-instrumentalist Dana Schechter's Brooklyn studio.
Having already premiered their single The Collector via Roadburn.com, and laid the groundwork for their upcoming music video for the same track, INSECT ARK are geared up to take the album on the road – full dates below. Schechter will be joined by new recruit, Ashley Spungin (Taurus), who joined the band following the completion of the album. Portal/Well has been streaming via CVLT Nation.
The music video for The Collector is currently in post-production, with visual inspiration in part drawn from classic 1960's Japanese ghost films. Featuring live-action footage combined with gritty animations made by Schechter (who is also an animator by trade); Alan Dubin (Gnaw/ex-Khanate/ex-Old), another like-minded NYC based musician/video artist, is the Editor and Co-Producer.
Exploring themes of corruption of the natural world, and facing oblivion, Portal/Well continues the wordless existential narratives already established on INSECT ARK's 2013 EP, Long Arms and 2012 7″ single, Collapsar.
Portal/Well finds its voice in the sound of elements burning and crashing into each other; in the haunting groans and swells of the lap steel guitar, the stalking bass, the insistent drum programming, and the deep oscillations of synthesizers. From this morass songs are born, deeply melodic, dense, austere, and wildly unhinged. Amidst the gloom there are moments infused with bright shards of light, and respite to breathe clear air, before submerging the listener once again into a deep cavern of lustrous shadow.
https://www.facebook.com/InsectArk