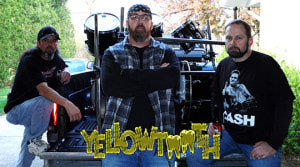 Michigan City, Indiana's own sludge/stoner band YELLOWTOOTH is preparing to hit the studio in September to record Crushed By The Wheels of Progress, the follow-up to the band's 2012 debut album Disgust.
The album will be released through Orchestrated Misery Recordings. The band has eight songs ready to be sent into the audio stratosphere. Song titles include "Before I Return to Dust," "The Spiral Stairs," "Meet Mr. Mossberg," "Climbing the Mountain," "Manifesto," and "Season's End." Guitarist/vocalist Henry McGinnis commented on the new material:
"We haven't really changed our writing style since the debut came out, but refined it a bit to suit our needs. Having been together since 2008 it's just a natural progression of who we are. The songs are still very heavy, and some parts still have the southern flair we have grown to enjoy since the beginning."
YELLOWTOOTH is also gearing up for several shows this fall in the Chicagoland area with label-mates PSYCHOMANCER.
www.facebook.com/pages/Yellowtooth/216048345074088