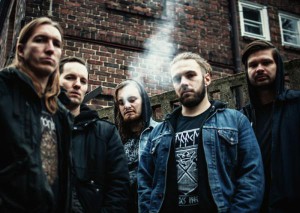 A decade is long enough for things to change. Some of them fall apart permanently, other last. Ten years after being branded with the name IN TWILIGHT'S EMBRACE, the Polish dark Death Metal five-piece are ready to unleash their third opus, 'The Grim Muse', on 15th September via Arachnophobia Records.
With its release planned for this summer's final days, 'The Grim Muse' contains the band's most introspective material to date. Gone are the days of youthful enthusiasm, now replaced by a sense of otherness and cold distance towards the world. At the same time, the album finds In Twilight's Embrace at the peak of ferocity and restlessness. Captured by bass player Marcin Rybicki at his own Left Hand Sound, the record showcases the rabid take on Death Metal, a dismal sense of melody and advance into ever darker territories. Guest contributions to the album were made by Tomas Lindberg (AT THE GATES, DISFEAR), Paweł Bartulewicz (THE DEAD GOATS) and Rambo (BLOODTHIRST).
Driven by bitterness, disillusion and doubt, 'The Grim Muse' is the defining work of IN TWILIGHT'S EMBRACE. This recording will be available as a classic jewel-case compact disc. The venture is about to begin. Let the grand breach expand.
LINE UP:
Leszek Szlenk – guitars
Piotr Steppa – guitars
Marcin Rybicki – bass
Cyprian Łakomy – vocals
Dawid Bytnar – drums