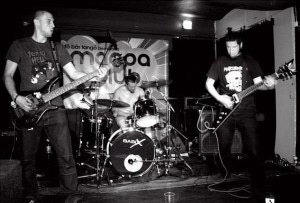 Formed in 2004 in Slovakia, IDIOTS PARADE is a female fronted old-school and fast Grindcore band with POWER VIOLENCE influences, a kind of bastard son of LYCANTHROPY, MAGRUDERGRIND and SPOONFUL OF VICODIN which produced its first demo the very next year and a second one in 2006 which got them to be part of numerous compilations and play Europe a couple of times as well as taking part to major Grindcore festivals such as the Obscene Extreme already.
In 2008, they released their debut split LP with Abortion while, in 2011, Bones Brigade records picked them up for a tour with Total Fucking Destruction featuring the drummer of Brutal Truth.
FOR FANS:
MAGRUDERGRIND, WEEKEND NACHOS, DISRUPT, LYCANTHROPY, BRUTAL TRUTH, NASUM.