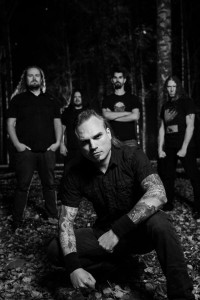 HORRICANE was the first Estonian death metal act to be signed to a high-profile label – the unique brand of mid-paced polyrhythmic death metal mixed with threatening and horror-movie-like keyboards created an atmosphere that was recognized by lots of fans in homeland but also in other Baltic states, Finland and Norway.
After being noted as the Best Unsigned Demo in the famous Brave Words & Bloody Knuckles webzine in 2005, co-operation with high-profile label Black Mark resulted in first album "The Lynch Lawyers" released during the same year. Unfortunately, the album did not receive the expected attention from the company and the ties with the label began to vanish, which led the second album "The End's Façade" – harsher and darker than the debut – to be released in 2009 by the band itself. This album also led to the endorsement deal that provided the new 8-string Schecter Guitar Research tools for even more massive sound of HORRICANE.
After changes in the line-up and the release of a split 7″ "Deportation" with the Estonian dark EBM masters FORGOTTEN SUNRISE, the five-piece has settled with the members who hide behind secretive names like DRX (vocals), WRZ and MRT (guitars), TRK (bass) and MDX (drums) although they are not unknown in the local metal scene – all guys have been in various metal bands since the nineties, playing from black to industrial and from hardcore to progressive.
During 2016, Horricane has released an EP "Synthetic Forms" on 2nd of April at Tallinn Music Week and is currently working towards the full-length album which will be released in late autumn.
http://horricane.bandcamp.com/