Lowell, Massachusetts natives HEAVY META are proud to officially announce the release of their debut album, "Mana Regmata". Set for release on February 11th. Active since 2017, the enigmatic sonic shapeshifters music initially started taking form way back in 2013. In 2019 their first official effort, an adventurous four-song self-titled EP, was released and they're now back with an even wilder work of art in 2022.
A DIY spirit pervades "Mana Regmata", which was self-recorded and produced by the band in their own studios over the past year. The cover art for Mana Regmata was created by the band's bassist, Kishor Haulenbeek, known for his visual art crafted for groups such as Afterbirth (Willowtip Records), Rannoch, In Human Form (I, Voidhanger), and others. Kishor also mixed Mana Regmata with mastering handled by Nick Zampiello at New Alliance East.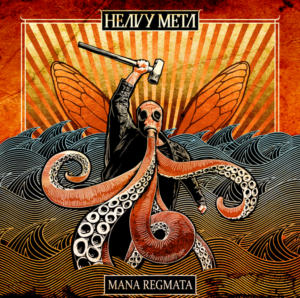 The concept of there being "nothing new under the sun" may exist for a reason, yet there will always be bold and visionary new art that has something new to share which has not been done before. HEAVY META exists in this sphere, an anomaly drawing from many styles of music, both metal and non-metal alike. The end result of that desire to make something new manifests itself on "Mana Regmata" as music where every listener will hear different things within every song. All the while, what individual listeners hear may very well be a part of what influenced its creation given the humungous list of bands and styles of music that have informed the band's unique take on heavy music.
To that end, the band jokingly calls their music "blackened progressive cowboy nintendocore", as there is no way to describe the music HEAVY META makes in simple terms. To back up a bit, understanding what HEAVY META is all about does require an understanding that three of its members have spent time in the renowned progressive black metal outfit In Human Form (I, Voidhanger Records) along with the cumulative experience of everything else this projects members have been a part of over the years.
"Mana regmata" is that rare work of art capable of throwing the kitchen sink at the listener while remaining focused, assembling something energetic and compelling from a wide array of influences. Mana Regmata exists on its own terms, unorthodox yet extremely passionate, and designed without listener expectations in mind. To give you a musical roadmap for what's in store for those who check it out, imagine if Sikth joined forces with Every Time I Die, Botch, Voivod, Mr. Bungle, Dillinger Escape Plan, Rush, and many others.
HEAVY META – Mana Regmata Line-Up:
Patrick Dupras – Vocals (In Human Form)
Rich Dixon – Drums (In Human Form)
Phill Trudel – Guitars, Guitar Synth, Midi Programming
Kishor Haulenbeek – Bass, Bass Synth, Keyboards, Backing/Clean Vocals, & Guitar Solo on "Vicious Wishes" (In Human Form, Black Harvest)