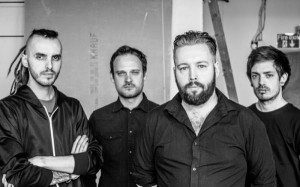 HEAMA are an industrial-influenced experimental groove metal four-piece based in Northamptonshire, UK. Recently, the band signed to metal label, Sliptrick Records and now the quartet's debut EP, Insurrection is to be made available to the general public. The EP was recorded at Initiate Audio & Media by Neil Hudson (KRYSTHLA/GUTWORM).
Formed in 2015, HEAMA encapsulate the essence of modern metal that likes to combine various styles of heavy music together. The four-piece hones in the heaviness and ferocity of groove metal, providing the crunchiest of hooks. This is balanced out by the infectiously catchy hooks reminiscent of the nu metal scene in the early 2000's. All the while topped off by the a layer of electronic sounds and machine gun like precision found in industrial.
Think if FEAR FACTORY that ditched guitar solos in favour of raw emotion, down-tuned riffs and liberal use of electronics.
Within two years as a band, HAEMA have crafted a unique and individual sound that has been compared to the likes of the afformentioned bands also mixed with TOOL / RAGE AGAINST THE MACHINE overtones.
HAEMA are:
Jordon Calderwood – Vocals | Andrzej Jakubiuk – Guitar | David Flitt – Drums | Scott Stephenson – Bass