Interview: Johan Heyrman – drums, Lennart Vanstaen: guitars
Welcome! Please, introduce yourself and the rest of the band. Tell us how your journey in metal music began?
Johan: Hi, my name is Johan Heyrman aka Jokke and I'm playing the drums in Grown Below. Matthijs Vanstaen is our vocalist and guitarist and also the main composer of our music. His brother Lennart is the other guitaris and takes care of the lyrics. Jolan Chen is our well talented bass player. For me personnaly, I must have been 8 or 9 years old when I discovered bands like GUNS N' ROSES, METALLICA and NIRVANA while hanging up with my neighbours who were a few years older. Step by step my music taste got extremer and extremer when I found out about Sepultura, FEAR FACTORY, NAPALM DEATH, SINISTER, CRADLE OF FILTH, DIMMU BORGIR, … I was really impressed by the whole black metal thing that was going on in the ninetees and for a few years I only listened to EMPEROR, SATYRICON, MAYHEM, MARDUK, DARKTHRONE, ENTHRONED, … When growing up, you broaden your musical taste and now I listen to a lot of different music genres although black metal will always remain important for me. We all listen to very different kinds of music ranging from ambient to rock and from metal to electronic music.
Please, could you tell us where the name GROWN BELOW comes from?
Johan: Before we were called TIMER and released a few demo's and 1 full album "Yet Here We Stand" released on Consouling Sounds. When we recorded the follow up album "The Long Now", we felt that the band name Timer did not fit the music anymore. GROWN BELOW refers more to the music we make, sounds mysterious and dark and refers to the earth.
Lennart: The main reason wasn't the face we wanted a 'cool sounding name'. For me, Timer was pretty ok, we were 'known' by that name, it was easy and a lot of people liked it. Also, it involves time, a concept which returns in our songs and my lyrics. It's our common fascination. The main reason was that the name Timer couldn't be disconnected from the troubles, the struggle, the conflicts we had in the last year. We wanted a fresh start.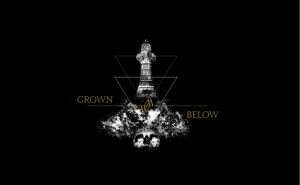 GROWN BELOW's sound is a mixture of several genres (post-metal, doom, emo rock, etc.). How would you sum up your music for R.U.M. zine readers? Who's your biggest musical influence?
Johan: We don't like to be put in 1 certain genre. Our music contains elements from post-rock, sludge, doom metal, black metal, rock, ambient, … We label our music as dark, deep, slow and silent. The main bands reviewers refer to when reviewing our album are CULT OF LUNA, ISIS or NEUROSIS. I cannot deny that we all love these acts, but frankly speaking I don't think we sound as a copy of them. Other references we often get are RADIOHEAD, PINK FLOYD, LED ZEPPELIN, MOUTH OF THE ARCHITECT, TOOL,… In my opinion we have our own unique style and that's partly due to the fact that all four of us have a different taste in music besides the bands we all love (like said before I'm the black metal guy, Lennart is more into ambient and rock, Matthijs into progressive music and Jolan totally digs alternative stoner).
What do you think about conservative fans and orthodox metal ideas? Is evolution in metal necessary?
Johan: Personnaly, I don't care if there are people who are really conservative. Everybody has the right to listen to the music he or she likes. There are bands who are great in what they do and always release the same albums like AC/DC or MOTÖRHEAD, but I dig more bands that like to experiment a bit like KATATONIA, CULT OF LUNA, NACHTMYSTIUM, ALCEST, DEFTONES, … Evolution in music is necessary otherwise it would become very boring. Everything always comes in waves and some genres peak for a while, then disappear to come back a few years later (think about black metal, death metal, trash metal or the recent classic rock revival). With GROWN BELOW we also like to evolve to keep it interested for ourselves. There is a big difference between all the albums we released with TIMER and GROWN BELOW.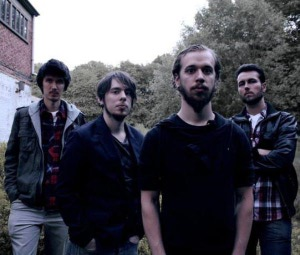 So what do you consider the pivotal moments in the band's on going career? It was debut album "The Long Now" ?
Johan: Every album we did was important in one way or another. "Yet Here We Stand" was my first album with the band, so it will always have a special place in my heart. "The Long Now" was the first to be released as GROWN BELOW on Slow Burn Records and received very nice reviews from all over the world. "The Other Sight" we see as a perfection of the previous album and opened a lot of doors for us and we got to play some nice shows and festivals.
What is behind the lyrical concept of "The Other Sight" ? Is the album conceptual or does it contain many unconnected thoughts?
Lennart: It begins where "The Long Now" left off, and that was the end of the world (aka 2012) when time stopped existing. 'New Throne' symbolizes therefore a new start in another world (The Other Sight), where every man needs to take care of himself, rather, the people who survived 2012 and are now trapped behind the boundaries of time. There is no interaction between those lonely survivors. They are put in separate caves by ancient creatures (the ones who are devoid of age, see "The Long Now"), where they are obliged to wait an eternity all alone. Our main character in "The Other Sight" becomes delusional rather quickly and seizes this act of repenting as a chance to rule over the 'world', which is actually just his own prison cell. He builds himself a throne and he is lead to believe that he has a kingdom for him alone. In 'My Triumph' this pattern continues, but we see some signs of awareness shining through. A long gaze outside in 'Valo Etendi' soothes him in a way, he is calm and thinks of his lost ones and how he wants it all to be over. A short longing to what has been. He feels calm at first, but also sad and during the apotheosis he utters feelings of anxiety and escapism. Here I used Plato's allegory of the shadows and the Mayan history and culture as a background on the whole. Finally, in 'Reverie', he feels the agony of loneliness and it sinks in that he is surrounded by walls, never to be free, forever alone and away from his loves ones who are already gone. He sees only one way out: "This is my final hope, this is my final rope."
Maybe difficult question… What song from this album is the most exciting for you to perform?
Johan: Hhhmm, indeed not an easy quastion haha. All songs are exciting in one way or another, but "My Triumph" is my personal favourite. I think it's the best song we ever wrote.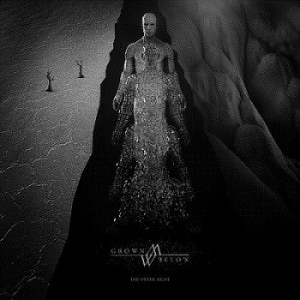 Are you satisfied with the Slow Burn Records activity?
Johan: When we recorded The Long Now and were looking for a label, Slow Burn Records was one of the first to react. We liked some bands that they had in their ranks like DRAWERS, CATACOMBE, etc. and also the albums were professionally released, so we decided to work with them. We asked them if they were interested in releasing The Other Sight and they were, so that's why they also released the new album. We do not have a deal for several albums, so at this point I do not know if the next record will also be released by them. We're happy with how they work in terms of promotion. The only negative things are that they do not release their albums on vinyl and that we do not receive any support what concerns touring. For the vinyl release we worked with Consouling Sounds, but we financed it all ourselves.
What do you think about the contemporary Belgian scene? Do you care about the Belgian scene?
Johan: I think we have a really strong "heavy" musical scene right now. Off course there are the well known bands like AmenRa, ABORTED or ENTHRONED, but there are also a lot of other bands that released great records. Our friends in Musth recently released their new album "Ebb and Flood" which also features Matthijs in one song. Other cool bands are Bathsheeba with ex-members from SERPENT CULT, SARDONIS and GORATH. PSYCHONAUT, GRIMMSONS, HEDONIST and HEMEBESTORMER are also promising bands.
What are you listening to nowadays? What kind of music do you prefere in private life? Do you know any Czech bands?
Johan: In my current playlist you will find bands like TOMBS, AGALLOCH, SVARTIDAUDI, MGLA, BEASTMILK, LORD MANTIS, PEARL JAM, NACHTMYSTIUM, SÓLSTAFIR, KATATONIA, Bruce Springsteen, INTERGALACTIC LOVERS, EDITORS, SIGUR ROS, WOLVES IN THE THRONE ROOM, LED ZEPPELIN, ASH BORER, … I know some Czech black metal bands like CULT OF FIRE and INFERNO who both released amazing records lately.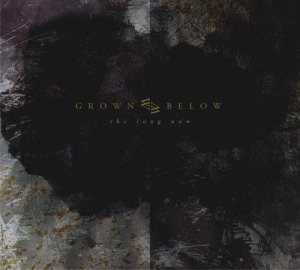 Do you have any live shows planned for the future?
Johan: We have some shows planned in Antwerp and Ghent in August, September and October. But we also want to play some gigs in our neighbouring countries.
Are you currently working on material for your next album? What will it be called and what can listeners expect?
Johan: We just took a break for 3 months with the band. In the meantime Matthijs has been working on new material and we will soon start rehearsing again. I haven't heard any of the new songs right now, but I'm sure that we will continue to evolve and explore new horizons with our music.
Certainly you have also another attributes in your live, not only music. What do you do in your free time? Do you have any hobby (Are you football fan? Your national team was very strong! ?), which you would like to say us?
Johan: Music is very important for me. I play not in only in GROWN BELOW, but also recently joined a band called Plaguegrounds who play a mixture of downtempo, sludge, black metal and hardcore. I also write reviews together with Filip from Hemelbestormer for a blog called Addergebroed. Besides music I like to hang out with my girlfriend, play with my cat and do some sport. I'm not a big football fan although I watched the World Cup and enjoyed it. I don't think we were that strong. We played one good game against the US. The others were mediocre but we certainly have a big potential to grow with our national team.
Thanks for your time and best wishes. Do you have some final message for the readers?
Johan: Thanks for the interview! Check out our new album and hopefully we can play in your country one time.
ALL