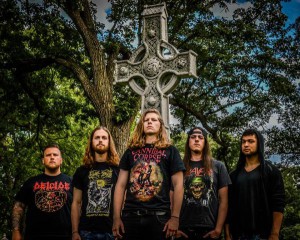 In just over a year, GRAVESLAVE has gone from a no-name newcomer to a considerable and formidable heavy hitter on the ever-burgeoning Twin Cities metal scene. The band's success is owed in equal parts to a relentless show schedule & DIY work ethic, and to the group's violent sound & brutal live performance. The band draws selectively and tastefully from all across the extreme metal spectrum, with influences both modern and old-school, to create a sound that's blindingly fast, dazzlingly technical, uncompromisingly aggressive.
GRAVESLAVE was founded in February 2014 between longtime collaborators Roman Johnson (guitar) and Ben Fagerness (drums). Josh Burke promptly filled the bass slot, and, after several rocky line-ups, the group was joined by MN metal scene guitar veteran Ian Frand and vocalist/manager Mike Bloodfist, who set the band on a demanding show schedule for maximum exposure, honing their brute force sound into a surgically precise performance.
After several DIY demos, the band entered the studio to track the first real GRAVESLAVE EP, "Corpseborne." There are no programmed drums, quantized guitars, or pitch corrections. Its real music, and the integrity can be heard in every blast and squeal. The band recorded at Signaturetone studios with production mastermind Adam Tucker to create a truly nauseating sound. It was during this recording period that Mike Bloodfist amicably stepped down as vocalist to focus on other projects. The position was filled by Twin Cities death-growl extrordinaire Don Durkee (Oklahoma Caddy Shack, ex – Down Infierno), who stepped in just in time to help finish the record.
With a new line up, a new EP, and more energy than ever, Graveslave will be putting themselves on tour throughout fall 2015 and into the New Year. "Corpseborne", available now through Zerobudget Records and at webpages.
Members:
Don Durkee – All Vocals
Roman Johnson – Guitar
Ian Frand – Guitar
Josh Burke – Bass
Ben Fagerness – Drums
http://graveslavemn.bandcamp.com/