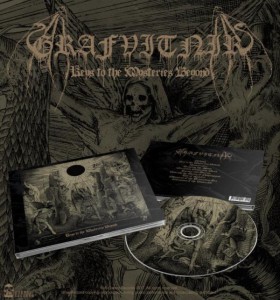 GRAFVITNIR is a ferocious Black Metal band from the dark forests of Sweden, formed in 2007. The group has previously released four full-length albums titled NâHash, Semen Serpentis, Necrosophia and Obeisance to a Witch Moon, and a cassette named Vessels of Serpent Fire. The first was released as a CD 2009 by Serpent Fire Productions and then re-released as a Picture LP 2012, by Drapskunst Records, the label that also released the Vessels of Serpent Fire cassette in 2013. The remaining albums have been released by Carnal Records and Daemon Worship Productions, respectively.
Swedish Black Metal band GRAFVITNIR have released a new song from forthcoming album Keys to the Mysteries Beyond. GRAFVITNIR will release Keys to the Mysteries Beyond December 15 on Carnal Records.
The driving force behind the band is, and has always been, Occultism and the never-ending quest for the enigmatic emerald of Lucifer. Just like razor sharp claws of a Werewolf move and twists against whirling moonlit Night Skies, the ice-cold blades of Occultism will tear the illusion of the demiurg's false Creation apart and fiercely widen the cracks and crevices to the ancient kingdom of Beyond.
With the band's fifth album, GRAFVITNIR are back from the frostbitten shadows of Scandinavia to eternally ignite the concealed spiritual Fire of the descendants of the Serpent, and to obtain the ancient Keys to the Mysteries Beyond.