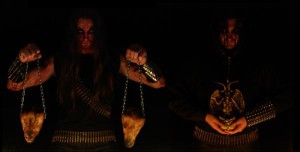 GOAT TORMENT was formed in 2008 by Kwel and K.J. with the intention to create music as a weapon of mass destruction and to annihilate everything which so-called society stands for. For a start, Kwel was supposed to play bass and K.J would handle the vocals. But they didn't find a guitarist who fitted with the ideology on a serious level. Thus Kwel decided to handle all the guitar parts and K.J. started to play bass. After some months of research, the band recruited drummer Perversor.
The band then released a 4-track demo tape, released in 2009 through Terrorghoul Productions from Austria. The reactions were tremendous and bigger labels contacted the band, interested to release the future offerings of GOAT TORMENT.
At this point, the band had shared stages all over Europe with bands such as PROCLAMATION, HELL MILITIA, ENTHRONED, BLACK CRUCIFIXION, BLACK WITCHERY and THE DEVILS BLOOD to name a few. At the beginning of 2010, the band had to part ways with drummer Perversor due to musical differences.
During the early days of April 2010 a new burning entity was found: S. claimed the throne behind the drums. The Death wielding Trinity of GOAT TORMENT was complete. New songs were written, gigs were played and blood was shed.
Exactly one year later, the band entered the infamous Blackout Multimedia Studio to record some tracks for two upcoming releases: A 7" split EP with The Beast which was released at the beginning of 2012 and later that year another 7" EP, called "Into The Mouth of the Serpent". Directly after the split EP was released, Kwel and S. decided to split ways with K.J. due to different views about their future. In that moment Goat Torment decided to go on as a duo recruiting session members for live-shows.

The band returned to Blackout Multimedia Studio in the fall of 2012 to record their first full-length album Dominande Tenebrae, which was released in February 2013 by Amor Fati Productions from Germany. After a year of a few European shows, the band had their first live appearance on American soil (Maryland Deathfest XII). The band had plans to go on as a four piece, but that didn't work out because of different views and wanting to change the meaning of Goat Torment. A South American tour was planned for August 2014 with the Belgian maniacs of Enthroned, but the two bands were forced to cancel one month before due to the irresponsible promoter.
In September 2014, S. decided to leave the band, due to other personal priorities and having no time anymore for drumming. It didn't take long for Kwel to find somebody to take over the hammers. A new era began and Torturer (MOR DAGOR, ex-BETHLEHEM, ex-BELPHEGOR) joined Goat Torment as a new full member, so the duo was complete again. The band returned back to Blackout Studio in April 2015 to record their second full-length album titled Sermons To Death, which will also be released by Amor Fati Productions on 24 July 2015."