W. Sarantopoulos (DECREPITAPH, FATHER BEFOULED, ENCOFFINATION, WOODEN STAKE, FESTERED, SCAREMAKER and more) moved from Dallas to San Diego and began searching for musicians to bring some Doom/Death to Southern California. Shortly after moving, he hooked up with drummer C. Koryn (ASCENDED DEAD) who shared a lot of the same influences. Their playing styles worked perfectly with each other, making the song writing process very easy. The two jammed for a few months while looking for other members to complete the line up.
The band name GHOULGOTHA was chosen as it represents our dedication to rotting old skull Doom/Death. In the summer of 2012, J. Moreno (ASCENDED DEAD) and I. Mann were added on bass/vocals and second guitar, respectively. The full horde quickly put together a two song demo/promo called No Peace To Rest In which will be released in September 2012. The band recently signed with Dark Descent Records, who will unleash The Deathmass Cloak in early 2015.
Debut album
On January 13, Dark Descent Records will release The Deathmass Cloak, the debut full-length from San Diego-based death metal band GHOULGOTHA.
After a demo, EP and a split, GHOULGOTHA emphatically announces their presence in the metal realm with the 53-minute The Deathmass Cloak. The album is the product of the very warped and prolific W. Sarantopoulos (AKA Elektrokutioner), so expect some of the most outside the box brutality the underground has to offer. Produced by Damian Herring (HORRENDOUS) at Subterranean Watchtower Studio, The Deathmass Cloak is a weird and winding death metal album destined to satisfy even the harshest critics. Cover art for the album comes courtesy of Mattias Frisk (Vanhelgd).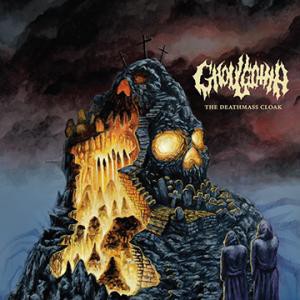 Tracks:
Solar Awakening (Intro)
Gazing into Melted Night
A Neck for the Nameless Noose
Austere Urns
Saturnal Rites
Prophetic Oration of Self
Arteries Unblest
Citadel of Heathen Flesh
Cartilage Imperfect
Levitate Within the Curse
www.facebook.com/ghoulgotha666