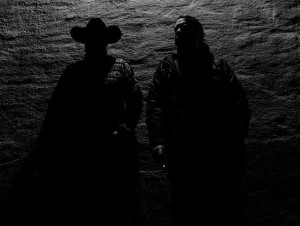 FLEURETY was formed in Ytre Enebakk, Norway in 1991. Core members are guitarist Alexander Nordgaren (ex-MAYHEM(Live), i LEFT THE PLANET) and drummer/vocalist Svein Egil Hatlevik (ZWEIZZ, UMORAL, ex-DODHEIMSGARD).
It all kicks off with "Descent into Darkness". This song was originally recorded for the band's debut demo "Black Snow" (1993). This 2004 re-recording features prominent guests such as vocalist Runhild Gammelsæter (ex-THORR'S HAMMER, KHLYST), bass player NecroButcher (Mayhem) and drummer Hellhammer (MAYHEM, ARCTURUS).
"Choirs" is remix intermission – based on the track "…and the Choirs Behind Him" from the 1994 7" EP "A Darker Shade of Evil" (Aesthetic Death, 1994). The third track is "Absence". It was first recorded in 1995 for a spot on the "Blackend" compilation vol. 1. This 2005 re-recording is hugely different from the original, and features guest bassist Plenum (VIRUS, AUDIOPAIN) and drummer Bjeima (YUREI, MANIMALISM). Expect the blackest disco.
For the track "Summon the Beasts", Fleurety reunite with singer Ayna B. Johansen (known from Fleurety's 1999 "Last-Minute Lies" EP and I Left The Planet). The band has also recruited drummer Andreas Barsleth (The White Tiger Prepade), who also plays on the fifth track "Animal of the City". Both of these tracks were recorded and mixed by Tore Ylvisaker (Ulver) in Crystal Canyon Studios, 2008.
For the 2009 recording "Degenerate Machine", Fleurety teamed up with drummer Einar Sjursø (VIRUS,ex-BEYOND DAWN), bass player Filip Roshauw (THE SWITCH, UMORAL) and lead guitarist Carl-August Tidemann (Tritonus, Arcturus, Winds), who showcases some incredible guitar gymnastics to close the track.
"It's When You're Cold" Ugliness redefined with the support of Vincent Wager (Flittermouse, ex-The Oath). "Consensus" Some regular black metal served Fleurety-style featuring Arthur Kay Piene (The Switch), Vincent Wager and Filip Roshauw. "Carnal Nations" is a soothingly disturbing instrumental finale to the series featuring Øyvind Myrvoll (NIDINGR), Cunt Krizlackh (Tusmørke, ALWANZATAR), Kalle Risan Sandås (The Dubbing Brothers) and Little Dickie (ex-KARMA TO BURN, ex-YEAR LONG DISASTER).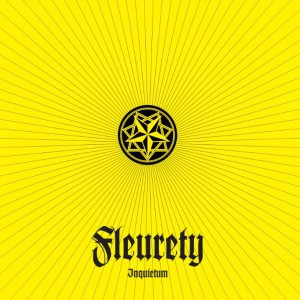 Album art is courtesy of Trine + Kim Design Studio, who also designed the original 7" art throughout the series. Mastering is performed by longstanding partner of the band Greg Chandler (ESOTERIC) at Priory Studios.
«INQUIETUM» – 25 years in 45 minutes
It subjugates and torments, strange twisted realms. Noisy psychotropic stupefication to free ourselves from each passing day. Brooding menace permeates the air, a storm waits to break. FLEURETY smash through the horizon – creators and masters of this restlessness – Inquietum. «Inquietum» is a full-length album CD that compiles the material off four 7" EPs that Norwegian experimental black metal legends Fleurety have released since 2009 – all of them through English underground label Aesthetic Death Records.