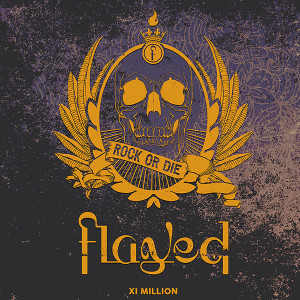 Kaotoxin is proud to announce the first step of its collaboration with Hard Rockin' machine FLAYED with the release of the band's new EP "XI Million" due out November 4th worldwide.
Keeping up the tradition of their last two releases, "Symphony for the Flayed" from 2014 and "Monster Man" from 2015, "XI Million" has been recorded in the good old way, on analog tapes at Cartellier studio and later mixed and mastered at Vamacara studio (OTARGOS, AZZIARD, ANTROPOFAGO…) and showcases the band's mastery of the Rock'n'Roll magic and groovy formula, yet playing it not only with guts but also bringing something fresh to the table mixing influences like AC/DC, BLACK SABBATH or DEEP PURPLE for a very personal vision of the genre.
Featuring four brand new originals and a cover version of CREEDENCE CLEARWATER REVIVAL, "XI Million" will also mark the first time a FLAYED release will ever be available on the highly-praised vinyl support.
Singer Renato Di Folco comments :
"The EP, made of two previously unreleased tracks from the "Monster Man" sessions, a cover version and two brand new tracks, is meant to be a sort of link between our two previous albums and the next one but it's also a link between FLAYED's modern approach of Hard Rock and the path paved by its glorious ancestors with this "traditional" kind of artwork and the analog recording. It's not just a filler release to fit our yearly schedule. It's really something of its very own, created for its very own purpose and a piece of art on its very own too."
The EP will be a collector edition with no future reprint coming as either a 500 hand-numbered copies limited edition Deluxe DigiSleeve CD or a 300 hand-numbered copies limited edition 12″ MLP+CD and, of course, digital. Preorders will be available at the Kaotoxin Shop on September 26th.
Two first extracts of the forthcoming EP can be found below as soundtracks of 360° videos produced by TAKE A SIP, a French communication agency specializing in the wine business, as part of their marketing campaign for the HELLFEST Open Air "Kingdom of Muscadet" wine bar.
TRACK LIST
Eleven Million
Trend Is Over
Fortunate Son [Creedence Clearwater Revival cover]
Shoot the Trail
Rollin' Monkey