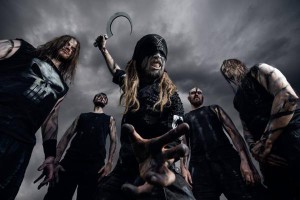 Finnish metal horde TORCHIA released their bloodthirsty debut album "Of Curses and Grief" on October 27th through Concorde Music Company.
"Of Curses and Grief" guides the listener from soaring melodies of Hell all the way to the filthy gutters of death metal. The album was produced by Hiili Hiilesmaa, a legendary Finnish producer who in the past has worked with HIM, AMORPHIS, ENSIFERUM and other Finnish metal classics.
Vocalist Edward Torchia comments on the production: "Nowadays bands try to compete who have the biggest and heaviest sounds on their records. Those albums end up sounding uninteresting and sterile and we are sick of that! With Hiili we wanted to create a sound that's organic, raw and timeless. You can sense the danger in our raging performances on this one!"
The gritty sound of the album was matched with the symbolist artwork of Santiago Caruso. Caruso's painting Root of Mystery sets a dark atmosphere for the cursed realm of TORCHIA. These songs are symbolic stories and not necessarily about this world. But the listener can find his or her own meanings in contrast to their experiences lyricist and songwriter Ville Riitamaa elaborates.