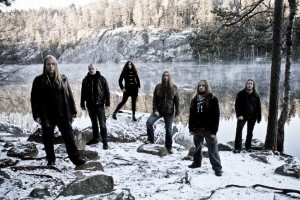 Finnish metal group NOUMENA will release their fifth studio album "Myrrys" on the 28th of April. The album is a strong follower to NOUMENA's previous album "Death Walks With Me" released four years ago.
As an appetizer, NOUMENA serves a single track "Metsän viha" in digital services and as a lyric video in YouTube: https://youtu.be/_VCRVqhCzSs
Metsän viha is an upbeat opening track of the album, which is a great choice as a single as well. The song combines catchy melodies, badass riffs, overwhelming drumming and Andy's and Suvi's merciless growls. Lyrics deal with the humanity's ability to destroy everything vital and dear, comments guitarist Tuukka Tuomela, who has composed the song. The album is an eloquent combination of 90's style melodic death metal and melancholic Finnish mollie tunes. The album is mixed and mastered by the metal visionary Dan Swanö, who has ensured wide and dynamic sounds. "Myrrys" offers a musical journey all the way from catchy upbeat moments to sturdy and desolate emotions.
With melodies, riffs, sounds and lyrics, "Myrrys" paints a picture of a mindscape filled with contradictions and Northern despair. The album title "Myrrys" (old Finnish) refers to ruckus, tumult or uproar. So far, NOUMENA has sticked to English as lyrical language, but the album themes, including Finnish nature and cultural heritage, and intimate stories required the use of Finnish. Every band member has contributed to songwriting, and the formidable cover art is crafted by Finnish young talent Otto Lehtonen. "Myrrys" is NOUMENA's second album with vocalist Suvi Uura, who contrasts and balances skillfully Antti Haapanen's growls with her deep voice. Uura joined NOUMENA in 2009 and the rest of the band are original members in the band turning 20 years in 2018.
On the album release day (28.04.2017) Noumena will also release their next official music video directed by Jyrki Murtomäki. "Myrrys" is released by Haunted Zoo Productions, which is an independent record label established by Noumena members. Distribution by Playground Music and Inverse Records. Released in Russia by FONO under the license from Haunted Zoo Productions. Album is released in CD/LP/DIGI.
NOUMENA are:
Antti Haapanen – growls
Suvi Uura – clean vocals, growls, piano
Ville Lamminaho – guitars, mandolin
Tuukka Tuomela – guitars
Hannu Savolainen – bass
Ilkka Unnbom – drums
Discography:
Pride/Fall 2002 (Catharsis Records)
Absence 2005 (Spikefarm Records)
Anatomy of Life 2006 (Spikefarm Records)
Death Walks With Me 2013 (Haunted Zoo Productions)
Myrrys 2017 (Haunted Zoo Productions)