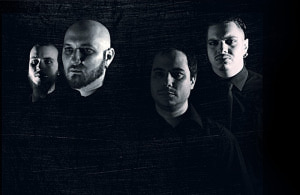 Kaotoxin Records has announced that UK funeral doomsters EYE OF SOLITUDE will not only release their brand new collector EP, Dear Insanity, this fall, but that they also have already huge plans for 2015, including a split EP and the re-recording of their 2010 debut.
Dear Insanity
The single song, 50 minute-long, EP will be released on November 24 (France), December 1 (Europe) and December 2 (North America and digital) with pre-orders starting on November 3. Dear Insanity will be released as a 5 limited collector edition (500 copies only) with NO future repress. The disc will come packaged as a deluxe tri-panel DigiSleeve with artwork by Giannis Nakos of Remedy Art Design. Get ready for the darkest EYE OF SOLITUDE release ever. Miss this and regret it for the rest of your life!
Split EP with FAAL
During the first half of 2015, EOS will release a brand new split EP with Netherlands' Doom / Death act FAAL. FAAL's material is already recorded (expect killer dissonant and dark Doom / Death at its best!) while EYE OF SOLITUDE's part is currently in pre-production. The split CD will feature one track per band for a total running time of about 25 minutes. FAAL will appear courtesy of Ván Records.
The Ghost 2015
Last, but not least; EOS will re-record their long sold-out 2010 debut full-length, The Ghost. The album, independently released when the band was still more or less a solo-project by Daniel N., will at long last have its chance to be heard in all of its song-writing glory with this new revamped version on which the whole line-up is actually working. The re-recorded version might also feature some bonus material yet to be announced and is expected sometime during the second half of 2015.
…and more!
EYE OF SOLITUDE is planning some more live appearances in Europe next year and is working with Kaotoxin Records on a special line of limited collector (re-)releases for 2015 which will be announced in the coming months.
EYE OF SOLITUDE have never been so busy darkening your skies!