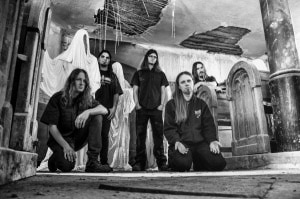 Breastfed off the gloomy atmosphere of Franz Kafka's Prague, the Czech existential doom metal horde ET MORIEMUR (EM) was founded in February 2008.Featuring ex-members of DISSOLVING OF PRODIGY, SILENT STREAM OF GODLESS ELEGY and members of PANYCHIDA and OBLOMOV, the band released an EP (Lacrimae Rerum, 2009, self-released) and its debut full-length album ("Cupio Dissolvi", 2011, Pařát prod.).
The album received several positive reviews and EM ranked second in the 2011 edition of the "New Artist of the Year" Czech rock/metal publicists awards and played scores of gigs both in the Czech Republic and abroad, sharing the stage with such bands as MOURNFUL CONGREGATION, ESOTERIC, SATURNUS, WORSHIP, AHAB, ISOLE, OPHIS or MARCHÉ FUNEBRE and performing at prestigious festivals such as BRUTAL ASSAULT, GOTHOOM OPEN AIR (SK), DARKEN THE MOON (BE) and CZECH DEATH FEST.
EM also appeared in two compilations – "Institut černého kovu" a tribute CD to the Czech black metal legends TÖRR and Doom Metal Front zine compilation "Eastern Doomination". The Czech doomsters are now ready to unleash upon you their second shattering record "Ex Nihilo In Nihilum".
The new album: Ex Nihilo In Nihilum
Recorded, mixed and mastered at Hellsound studio by Honza Kapák (MASTER'S HAMMER, AVENGER, PANYCHIDA) between March and April 2014. All music and lyrics by ET MORIEMUR except quotes by Giacomo Leopardi, Marina Cvetaeva, Samuel Beckett, Maurice Maeterlinck and Oswald Henke.
Release date by Solitude prod.: November 2014
Cover: "Ex Nihilo" sculpture in Washington National Cathedral – photo by Greg Jones. The album title, "Ex Nihilo In Nihilum", is Latin for "out of nothing to nothing". As in its previous efforts, EM resorts to rich melodies, crushing riffs and dark orchestrations to depict in music the absurdity of human existence. These elements, combined with versatile and haunting vocals and poignant and introspective lyrics sung in different languages such as Japanese, Russian, Italian, German, French, English and Czech create a sad, desperate and sinister atmosphere conveying the idea of the withering of life.
The album takes you on a hopeless ride, a journey through the realms of life and death that starts in the Japanese Aokigahara suicide forest at the foot of Mount Fuji, drags you through long-forgotten and desolate lands and leaves you shattered on the Carpathian hills of Beskydy.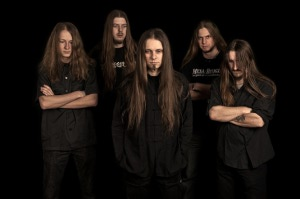 Quotes from existential poets such as the Italian Giacomo Leopardi, the Russian Marina Cvetaeva, the Irish Samuel Beckett, the Belgian Maurice Maeterlinck or the German Oswald Henke add that extra bleak touch to the album. As poet T.S. Eliot put it, "You are the music while the music lasts"- so let ET MORIEMUR take you into the waters of the ever-flowing and bone-chillingly cold river that is life itself!
Distinctive features
EM plays existential doom and its music, lyrics and world view are inspired by tragic and existential philosophy and by the works of authors such as Euripides, Arthur Schopenhauer, Fyodor Dostoevsky, Franz Kafka, Samuel Beckett, Thomas Bernhard or Albert Camus. Life is absurd, meaningless and amoral and man is too frail a creature to cope with it – but too pretentious to admit it.
EM musical influences range from classical music, Czech folk music, ambient and German dark wave to metal and include bands like BURZUM, BETHLEHEM, RELATIVES MENSCHSEIN, GOETHES ERBEN, COLOSSEUM and SHAPE OF DESPAIR.
The band blends apparently irreconcilable opposites: tradition with modernity, melodies with dissonances, sadness with wrath, intimacy with majesty, never resorting to midway compromises.
Last but not least, EM's live performances combine a chamber-music-like experience (characterized by an intimate – albeit dark – atmosphere, mist and funeral candles) with bursts of heartbreaking desperation and distorted dynamism.
ET MORIEMUR is:
Zdeněk Nevělík – vocals
Aleš Vilingr – guitars
Honza Vaněk – guitars
Karel Kovařík – bass
Michal "Datel" Rak – drums
Discography
Ex Nihilo In Nihilum (CD 2014, Solitude prod.)
Cupio Dissolvi (CD 2011, Parat prod.)
Lacrimae Rerum (CD 2009, self-released)
Compilations
Tribute to TÖRR (2011)
Doom Metal Front zine "Eastern Doomination" (2012)