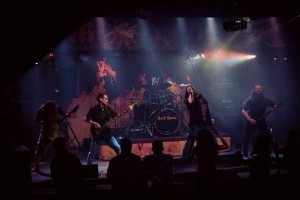 Interview: Alexey Kostovitsky – composer and lead guitars player
Greetings to Moscow! How are you doing these days? Has the spring already come to Moscow?
Hi! Spring has come to Moscow with a rain! Otherwise everything's fine. 🙂
Let's start with the new album 'The Efflorescence'. It's the first EPHEMERAL OCEAN album. Could you tell us how the album was born, from the very beginnings to the release?
The story of an album started in summer 2013, when I was busy with first band's release — EP «Honour in the Mask». Then it was one and a half of the years of hard work — searching for musicians, arrangement, rehearsals, lyrics, tracking and, finally — LP's release. It was great. It's hard to express what I feel when I hold the CD in my hands.
Can you tell me which band or which song made you realize in the beginning that you wanted to play this music?
Definitely it was KATATONIA. They are still one of my favorite bands. In some aspects they are our ideal.
Could you please also tell us something about the lyrics of the new album? Are they anyhow connected, is there some kind of concept behind them?
This album is a continuation of our first EP «Honour in the Mask». The songs are about man's feelings after the crisis situation, or drama, or just hard times. It's all about the time of the new personality's birth on the ruins of an old one. The time of the life's new chapter, unknown and intriguing. The words and music are connected by the author's feelings, that are similar.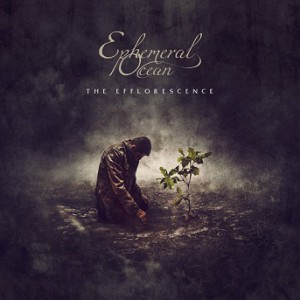 What were your main inspirations and goals in making the album?
While working on that album, we were inspired by our own emotions and everything that happened with us and around us. Our main inspiration is life. The main goal is to express it and share it with the world. This album is us. I think «The Efflorescence» is very honest and sincere work.
I have got one thing… Can you relate any of your tracks from 'The Efflorescence' album to events that used to happen in your lifes?
More or less all songs are connected with our life's events. Many people feel the same sometimes. And this unites us with listeners. This is one of our messages: to show people, that we are common in our feelings, that are connected with some events.
Have you already got some responses to your album? Both from your friends and unknown listeners and musicians, etc. …
Yes, we have. There are some positive reviews from zines. I must thank our labels for it — MFL RECORDS and FROZEN LIGHT. Surely there are some reviews and comments from our friends and fans, not only our fans but metal fans at all. I heard many good words about EPHEMERAL OCEAN. For us it's kind of inspiration source too. It's great!
At the present time you might be one of the most important bands of the Russian doom metal. What do you think about?
Oh, sounds interesting! Actually, we have nothing to say about it, because we don't think about it. We just try to make an interesting and honest music, we try to look at doom metal from the other side. And the result is the matter of time. We will just try to do our best to reach our goal.
Can you introduce cooperation EPHEMERAL OCEAN with other bands? I wonder, what are the relationships between persons of the bigger bands?
We are open to every kind of cooperation. I think it's important for band, especially for promotion. Now we are in some kind of creative tandem with amazing band WHO DIES IN SIBERIAN SLUSH. Together we had a mini-tour not long ago. And we have cooperative plans for future.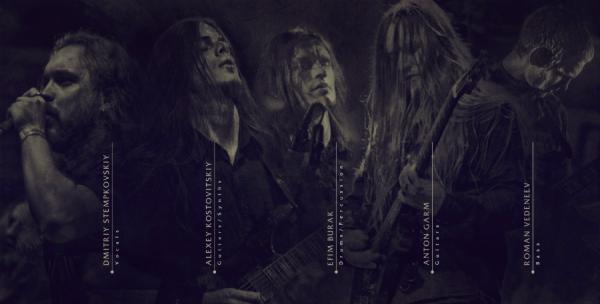 What is the first thing that comes to your mind when you hear the word "UNDERGROUND"? What is your view on the scene today?
Two things came to my mind — the crowd of beginners and very underrated bands. Everything is clear with first. The second thing is big and actual problem, especially for Russia. To play great music and to be amazing musician doesn't mean that you'll promote your music well. There is lack of people who knows how to promote that music and who wants to do it. I hope that things will change in the future for the better.
How do you see the future of EPHEMERAL OCEAN? Are you planning to support the album by a few live gigs or even a tour? By the way – how much do you play live? Are you interested in playing in Czech republic? Does the visit of our country attracts you?
Our future is to work hard on the path to our goals. As I said before, we had a mini-tour with our friends WHO DIAS IN SIBERIAN SLUSH — we were played Narva and Riga, then we have two gigs in Moscow, including with a wonderful band SATURNUS. Now we are planning our next European tour. All of us — and me too — have more than ten years of experience in the music and on the stage, but as the parts of EPHEMERAL OCEAN we had only six shows. I love Czech Republic very much, I was there not once, and I think it would be great to have a gig here! I hope to make it real in near future.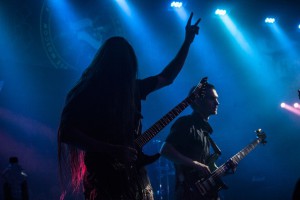 Small countries like a Czech republic are monitoring situation between Russia and USA. The newspapers are full of west propaganda, but normal people don't believe it. Can you introduce your opinion on political situation in the world?
Sorry, but I have no commence about politics. It's not discuss, music rises above, so let's talk about music 🙂
How important is religions for Russians and for persons of our band? Could you shorty tell us about your attitude to church?
In our country religion plays a great role for many people. I think that religion is a matter of personal preference and church has nothing to do with religion and faith. As for me church is business and instrument of mind control.
A few days ago was canceled concert of BATUSHKA in Moscow. How much difficult is a organizing concert in Moscow? Are you familiar with the metal scene in others towns in Russia?
We are living in country where people are shovel-fed with pancakes. Situation with BATUSHKA was not a single case. We all saw how shows of the bands like CANNIBAL CORPSE, BEHEMOTH, BELPHEGOR, NILE etc. were canceled. I think it was illegal. And metal fans, ordinary people, are suffer from it at first. But it has no influence on the underground bands and gigs. Maybe it will bring back the spirit of protest in metal. 🙂
Thank you a lot for your time and willingness. If you wish to give some special words to the Rumzine readers! All the best and good luck!
Thank you for interesting questions. Thanks to all who supports us and believes in us. Listen to good music and stay well!
ALL