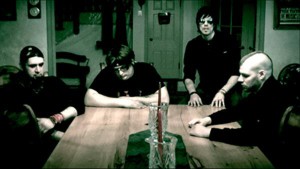 ENTROPY O.A.C. comes from the land of decrepit barns and more miles of tree lines than anyone cares to see, but this universal sometimes melodic, sometimes metal band calls Northern Wisconsin it's home. This intriguing, middle of nowhere group consists of singer Ben Poulin, guitarist Austin Wagner, drummer Brandon Hall, and Bassist Josh Aalto.
Seasoned veterans of the scene, ENTROPY O.A.C. has one full length record, Smiles For Stab Wounds, which the band self-financed and recorded at Pachyderm Studios where the likes of NIRVANA, MUDVAYNE, Live and many more have done studio recording. The album was primarily engineered and mixed by Adrian Olsgard. The record saw ENTROPY O.A.C. praised by fans and critics alike, who referred to them as unique, yet powerfully influential. In 2011, the band returned with the What Nightmares Are Made Of EP, which eventually led to a developmental record deal with Pavement Entertainment.
The combination of years of experience and a forward-thinking vision has resulted in ENTROPY O.A.C's newest and most engaging material, Dark Clouds and Clarity. The three-track EP is set for an April 21 release via Pavement Entertainment.