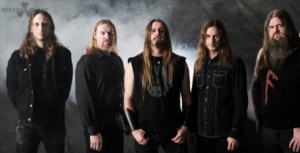 ENSLAVED was formed in 1991 by Ivar Bjørnson and Grutle Kjellson, and did their first demo "Yggdrasill" in the summer of 1992, while the legendary mini-album "Hordanes Land" was released the year after in 1993. Enslaved's debut "Vikingligr Veldi" came in the spring of 1994, while the successful second album "Frost" was released already winter 1994. In many ways "Eld" ('97) marked the opening of a horizon-widening era for the band, with a small detour on "Blodhemn" the following year: ENSLAVED's most furious and black-edged effort to date. "Mardraum (Beyond the Within)" was released in 2000; taking on an experimental and innovative approach for Extreme Metal. The band followed up with "Monumension" in 2001; receiving more (pleasantly) surprising positive response to their "no rules" approach to Extreme Metal. Many see an important milestone being "Below the Lights" ('03) – where the progressive yet darker ENSLAVED emerged. A new line-up was put together after the recording of "Below the Lights", marking the opening of a new, shimmering chapter.
The new line-up released the album "Isa" in late 2004, and the album put Enslaved at the very forefront of contemporary Extreme Metal; both as a recording and live artist – proving the latter with the release of acclaimed live-DVD "Return to Yggdrasill". "Ruun" was released in 2006, and received numerous great reviews from fans, magazines and websites worldwide.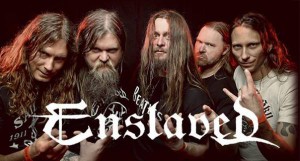 Early 2007 ENSLAVED sat out on their first full tour through USA and Canada since the late 90s; following up with treks all over Europe and more North America. Back in the studio the band conjured up "Vertebrae" ('08) together with mixer Joe Baresi – an album that spread across the globe like fire with extensive promotion and extensive touring. More inspired than ever the band worked on a new album throughout 2009, and started recording during the first weeks of 2010. The band's first co-operation with mixer Jens Bogren; "Axioma Ethica Odini" received Enslaved's 4th consecutive Norwegian Grammy in the Metal category ("Isa", "Ruun" and "Vertebrae" receiving the three previous awards).
ENSLAVED continued to tour Norway, Europe and North America; and released two exclusive EPs during 2011 ("The Sleeping Gods" 10" and "Thorn" 7"). Never ones for resting, Enslaved worked intensely with an album throughout all of this – and in 2012 they inked a worldwide deal with leading label Nuclear Blast Records. This all resulted in Enslaved's groundbreaking 2012-album "Riitiir", followed up throughout 2013, which became a year of expansion for Enslaved – with North American and European tours, and of course more festival appearances around the world. It also became the year when Enslaved finally made its way down under to Australia, a highly memorable and successful endeavor. Upon returning at the end of the year,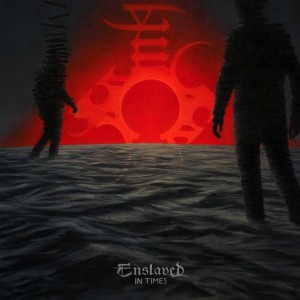 songwriting once again commenced and 2014 were set to be the year when Enslaved took yet another step up, out, forward and whatever directions there are. The year started with supporting Swedish brother-in-beards AMON AMARTH. Then the summer and autumn two highly public commissioned pieces in Norway, and recording a new album. As 2014 draws to an end, there are storms brewing: festivals are being booked en masse, ENSLAVED's own Ivar Bjørnson is curating Roadburn 2015 (where Ivar and the band will be involved in no less than four performances), and the new album "In Times" will be out worldwide early March 2015, accompanied by a North American tour starting March 5th!
As with the two previous albums, the team of producers once again came from within the band: Bjørnson, Larsen and Grutle – with the addition of Iver Sandøy. Large parts of the recording were once again done in the band members' own studios in Bergen and the remote village of Valevåg. The mix and mastering was handled by respectively Jens Bogren and Tony Lindgren; both from Fascination Street Studios. One of Enslaved's trademarks has been the magnificent paintings that adorn the covers, and "Riitiir" is no exception. Norwegian artist Truls Espedal, who has worked with the band since 2001, has done the impossible with topping his own previous masterpieces once again.
Line-up:
Ivar Bjørnson (guitar)
Grutle Kjellson (vocal & bass)
Cato Bekkevold (drums)
Herbrand Larsen (keyboard & vocal)
Ice Dale (solo guitar)