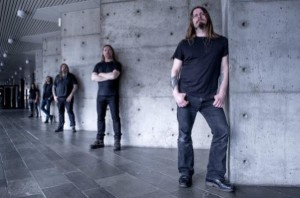 "We're going to move away from the past. 2016 was the 25th anniversary of ENSLAVED and that was really important, for us and for the fans. But now, we move on…"
Formed in Bergen, Norway, in 1991, ENSLAVED had evolutionary zeal in their eyes from the start. Even as they emerged from the nascent Norwegian black metal scene of the early '90s, guitarist Ivar Bjørnson and vocalist/bassist Grutle Kjellson demonstrated a fervently idiosyncratic approach to making extreme music. By eschewing the wilful conservatism of their peers in favour of an outward-looking ethos, ENSLAVED's reputation grew rapidly in the wake of extraordinary, epic albums like their primitive but insidious debut »Vikingligr Veldi« and its strident follow-up »Frost« (both 1994). By the late '90s, the band had morphed into a wildly progressive and adventurous beast, always retaining the core, aggressive tenets of their musical roots but increasingly in thrall to the limitless possibilities that music, in its entirety, truly presents. Widely acknowledged as a powerful and ferocious live band, ENSLAVED entered the 21st century by flexing new muscles on the acclaimed likes of 2003's »Below The Lights« and its groundbreaking successor, »Isa« (2004). Now as much a part of the flourish progressive rock and metal realm as they were loyal servants of the extreme metal underground, Bergen's finest hit a rich vein of form as the years passed, with albums as diverse and challenging as 2008's »Vertebrae« and 2010's »Axioma Ethica Odini« joyfully expanded the ENSLAVED musical universe, drawing in countless new acolytes along the way.
In 2015, ENSLAVED released their 13th studio album, »In Times«. A tour-de-force of hypnotic prog intensity and scabrous, blackened pomp, it exuded an air of completion and finality that led perfectly into 2016's extravagant celebrations, as ENSLAVED marked their 25th anniversary with some truly life-changing shows that explored all shadows and hidden corners in the band's colossal catalogue. According to Ivar, »In Times« represented the end of an era and the opening of a gateway to somewhere entirely new. "»In Times« felt like a great step for us. We kept going with the progginess that we'd been trying to develop for many albums, but we also went back and picked up on those early roots too," he explains. "In a sense, when »In Times« was done, it felt like a little bit of closure at that point. This task of combining all these things, old and new, experimental and conservative, that was done. As we started to work on the new album, we didn't really feel that it had to be this or that or going anywhere in particular. That means freedom for the creative process."
Despite rarely pausing for breath – not just as a result of ENSLAVED's hectic touring schedule, but also due to numerous extracurricular projects – Ivar and his comrades have somehow managed to piece together yet another full-length milestone in the shape of their 14th studio effort, the elegantly titled »E«. Written amid a burst of creativity, grabbed at the tail-end of the band's 2016 US dates, the new album marks the majestic birth of a revitalised and newly inspired ENSLAVED. Against the logistical odds, a new dawn was coming.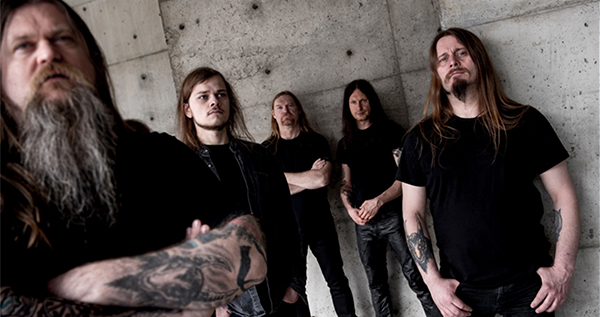 "All this noise around the making of this album, the extensive touring, doing other projects, challenging situations like becoming a dad, it made everything so impossible that it was ridiculous!" Ivar laughs. "That brought a special frame of mind, I think, and those moments of creativity, of making music, became almost holy. The first chance occurred in Brooklyn in April last year. Because of airline tickets and all of that, I had to stay for two days after the show. I didn't have much to do so I brought my laptop and my guitar. Having two full days in an apartment with no obligations opened a whole new universe and that's when the third song, 'Sacred Horse', was written in its entirety. It was the most submerged time in composing I've ever had, so it overtook everything else. It was like when Tom Waits sings 'What's he building in there?' You take yourself off to the little shack in the garden and do weird stuff, occasionally coming out to smoke!"
One major factor in this revered band's new lease of creative life is the arrival of new keyboard player, Håkon Vinje, who replaces the departing Herbrand Larsen. Finding a replacement for such a long-time compatriot was no easy task, of course, but as Ivar recalls, the planets were quite happy to align on the band's behalf.
"We did our last show on December 16 last year, and the support was this up-and-coming band from Bergen called SEVEN IMPALE. We watched the keyboard guy up there, going insane and playing his Mellotrons and he was amazing. After the show, we were thinking 'This could be a good guy to ask…' but he was obviously dedicated to his own band. We asked him what was happening and he said that his singer was moving away somewhere and so he was looking for another band to play in. I thought 'You've got to be kidding me!' This took, in total, 16 seconds! We asked about his musical background and he said that when he was eight he told his family that he wanted to be Jon Lord. So that was that! The universe was obviously on our side."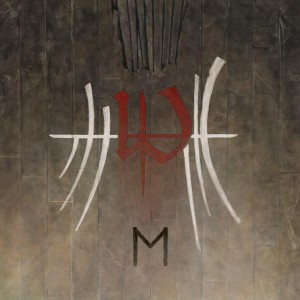 An album full of revelatory moments, spine-tingling dynamics and exquisite but alien atmospheres, »E« showcases a refreshed ENSLAVED line-up via songs that take the band into unprecedented territory. From the grandiose, weather-beaten riff-scapes of 11-minute opener 'Storm Son' to the wild, psychedelic frontier squall of 'Sacred Horse' and the muscular, sax-powered shoegaze barrage of monstrous closer 'Hiindsiight', it is both a typically bold and fearless statement from this most inventive of modern metal bands and a thrilling sideways step that harnesses the spirit of old and sets it loose in a whirlwind of imagination. Conceptually, too, ENSLAVED are making giant forward strides. While past albums frequently focused on notions of individuality and isolation, E offers a transformative fresh perspective.
"It's a noticeably positive record. It deals a lot with gratitude and a constructive take on a lot of things we have written about before," Ivar explains. "This album is a reaction to a lot of the concepts we've had that deal with extreme individualism, all the way back to Isa, it's all about breaking down the forced chains to the rest of humanity and society and finding your own way. »Isa« and »Axioma Ethica Odini« were particularly about that. This album is a reaction to that: it's about the pairings and dualities that are so important to the human experience. The partnership between man and nature is also important."
14 albums and 26 years into a career that shows no signs of losing neither momentum nor its magical, effervescent creative sheen, ENSLAVED are once again evolving before our ears and eyes. This time, however, even the sky is no limit. Stronger than ever and manifestly thrilled to be in such rude health, Ivar avows that life in ENSLAVED has never been more rewarding. And the best is yet to come.
"It's a great set-up for a joke… this is the difficult 14th album!" he laughs. "It's mind-blowing and very uplifting, the vibe we have now. The people we work with, the people who buy the record, it makes sense to them too, that we can have new beginnings. It's incredible. It's a feeling of freedom. We can go wherever we want with the next one and there are no limits to where we can go after this."
Line up:
Ivar Bjørnson | guitars
Grutle Kjellson | vocals & bass
Håkon Vinje | vocals & keys
Cato Bekkevold |drums
Ice Dale | lead guitar