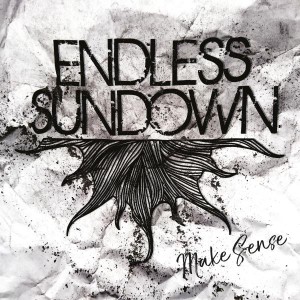 ENDLESS SUNDOWN is an French alternative rock band. Their music genre is practical for them because it permits them to not have an etiquet sticks on their forehead. Their universe is at the same time sensitive and poetic passing by something powerful and brutal.
The band's EP is out now, within "Make Sense" the music is impefect and meticulous that will thrilled the ALICE IN CHAINS, RADIOHEAD, SYSTEM OF A DOWN fans.
ABOUT "Make Sense"
Make Sense is the new ENDLESS SUNDOWN's EP, which brings an emotional, energetic and ethical feelings. It is called ethical by its sencerity, its search for something perfect with a genuine sound. Nowadays, any kind of music is becoming artificial and Make Sense prooves that a modern music production can be elegant with traditional recoding methods.
This EP perfectly represents the alchemy between the four musicians, the sound ingenieer, Hervé Faivre from Improve Tones Studio.
Make Sense talks about the duality, the paradox and the difficulty to become an adult. A child point of view, which enlight all the dark aspects of life. The beauty is always there and that is what Endless Sundown what to represent through this EP.
https://soundcloud.com/dooweet/endless-sundown-make-sense/s-LIo10