Interview – Maciej Rochaczewski – vocal
Hello boys! I hope you are doing well? My congratulations to the excellent new release!
Hell with you men. We're totally fine. I'm really sorry you had to wait so long for this interview but recently we've had lots of things at the same time on our heads. Thanks for your congrats, we're fucking glad you like our new album. Thanks again.
Your new release is out. What about your feelings and impressions now? Is there satisfaction on your part? And what about first feedbacks from your fans?
Yeah, just as you say, it's out. We as EMPATIC are really satisfied with the final shape of the album. Of course, we could try analysing and correcting some details all the time but it wouldn't make any sense, I think. We've shared with the world what we've created for the last couple of years since our first album. In my opinion, we've made a huge step forward in making music. Now we're still receiving reviews and opinions on "Ruined Landscape", lots of them have arrived from all the parts of our wonderful world. Let EMPATIC spread around the world! We also got positive feedback form our fans so we're really proud of our achievement. I hope we'll stick to the track we're on now and we'll keep going in this direction.
Did you spend the whole for years by writing the material or did you have a creative break and composed and recorded
the album in a short time?
We had some material already prepared, a few tracks were left out on the "Gods of Thousand Souls", so we knew what to start with. I had lots of ideas from the previous years, they just had to wait for the right time to be used. But, to be honest, we also created some last minute parts 🙂 The recording of the whole material took about 2 months cause we all have to earn our livings doing completely different jobs than playing in the band.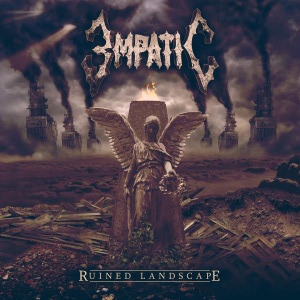 I really like how the sound worked out for you on "Ruined Landscape". Where did you record this album and who's responsible
for the final result? Is it really hard then to get a sound?
Our guitarist Sesyl was in charge of the whole recording process. In his SB Studio, we recorded all the parts, from the drums to the vocals. It was a real comfort to record in your hometown. The final shape of the album was made by Tomek ZED Zalewski, our magician 🙂 He had to work on what he received from us and we think he did an excellent job with the mastering.
Are you setting up some recording policy? For example that every song must have some particular variety, one or more
interesting moments?
You know, we don't have a scheme when working on the tracks. We have like two main riffs and then all the interesting things start happening. Sometimes we think the song is complete and ready and then someone comes up with a new idea and the whole track is turned upside down. Making music is so much fun.
What's the story of "Ruined Landscape"? What is the message of your record? What do you think about decadent visions?
Global warming, world conflicts, wars etc.
First of all, the "Ruined Landscape" refers to the fall of human values, honor, morality. Humanity is falling down more and more and one day all the visions of the future created in films years ago may become true. There will be robots everywhere and people will hide like rats somewhere in ditches dreaming of surviving till the next day. But the worst are wars…they must derive from some complexes, I don't get it, for me it's sick.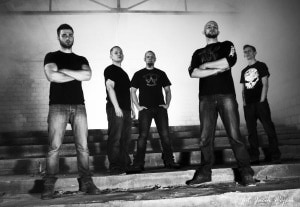 What do you think is the number one problem in the metal scene today?
All around the world there are so many bands that dream of playing on the biggest stages and have great tours. Unfortunately, like many other fields, you have to know the right people to achieve that. Your talent only is not enough, sorry to say but that's the truth.
What do you think about cult of BEHEMOTH? Is a popularity of BEHEMOTH evil message for the Catholic church?
BEHEMOTH is a symbol of the Polish heavy music. Every concert is a magical show but first of all they do great music. Their last album is a masterpiece. The catholic church, not only in Poland, has recently spoiled their image when the world found out about the secrets of those holy men who are supposed to represent the church. They think of themselves as our fathers whom we can rely on and tell everything. But then, who knows, they probably talk about our secrets when playing cards and laugh at us. And the worst about them is the child abuse. How can they carry the world of God? How can we trust them? I agree with Nergal that they're like a sect. The church is tantalising people. The popularity of BEHEMOTH is a good sign for all the fans of metal, and it's not the church's business.
What about your own musical taste? Which bands or genres do you enjoy most?
Personally, I love the melody in all this noise 🙂 Everyone has their favorite bands, like METALLICA,IN FLAMES,MACHINE HEAD, CHILDREN OF BODOM, IRON MAIDEN, BEHEMOTH, DECAPITATED, VADER, GOJIRA, ARCH ENEMY, etc…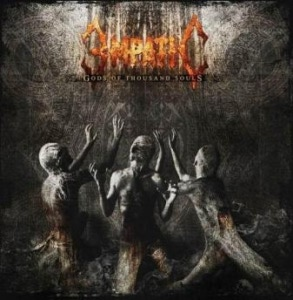 Do you attentively note Polish death metal underground? What about new bands? Does anything assumed you? What can you
recommend us?
Actually, I haven't had much time to follow the latest news about our Polish metal scene but I know that we have lots of young bands who kick asses really hard, like MANIPULATION, LOSTBONE, MADE OF HATE, CALM HATCHERY and many more.
What do you think about downloading music? Do you think downloading music is wrong?What type of storage mediums do you
prefer? In what do you see their biggest advantages and disadvantages?
From the point of view of an artist, I think downloading music is wrong. In our case, when the band is not really popular, it may be form of promoting our music and getting new fans. On the other hand, I must admit I myself download a lot of music and if I like it, I decide to buy an original CD because I like to have valuable things on my shelf, within the reach of my hand.
Are you going to tour in support of the new CD? What are your plans for the rest of 2014?
We have some gigs planned for this year. let's hope we'll get more in 2014. We're also preparing a music video promoting the album but I can say nothing more about it for now. We're planning the tour for the beginning of the next year.
Thank you for your answers and for your music, good luck… and have you got some message for Czech readers?
Big thanks for the patience and for your time! I hope we'll meet some day at the gig in the Czech Republic and we'll drink some good beer together! Follow us on our profile https://www.facebook.com/empatic.info  Keep your horns up!
ALL