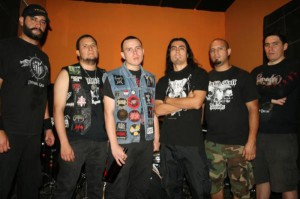 Death Thrashers CONCEIVED BY HATE begins the sinister proceedings with three original slash 'n burners and an incendiary rendition of DISSECTION's "Thorns of Crimson Death." Formed in 2002 by Morbid Skull Records owner and guitarrist/vocalist Jorge Montesino (DISORDER, MORBID STENCH) with co-founders Carlos Basagoitia and Rene Vega, the El Salvadoran unit leaves behind nothing but scorched earth with their contribution. CONCEIVED BY HATE is currently working on its next full-length album and is in the midst of planning a European invasion.
The second half of the split features the sonic mayhem and savagery for AKERHON's Violent Thrash! Featuring four tracks, including a wicked cover of MISFIT's "Where Eagles Dare," AKHERON continues their eardrum shattering assault with lyrical themes on the originals of existentialism, mental degradation, mankind's warring territorial obsessions, and the continual downward spiral of what others might call daily life. Launched in 2003, AKHERON is led by founder/composer/vocalist/guitarist Juan Guerra who along with bassist Julie Gomez, drummer Luis Galeano, and guitarist Jonathan Jimenez seeks only to destroy.
Actual:
El Salvadoran Death Thrashers CONCEIVED BY HATE have debuted a new track from Coalition of Death at MetalUnderground.com. Stream 'Hypocritical Sense of Ego" exclusively at this http://www.metalunderground.com/news/details.cfm?newsid=110632
On March 10 Morbid Skull Records will release a double dose of destruction entitled Coalition of Death, a split release featuring El Salvador's CONCEIVED BY HATE and Colombia's AKHERON. The album will be limited 500 hand-numbered copies, including 50 diehard versions with extras. Stream "Devotees of Death" from CONCEIVED BY HATE at this location and "Estigma" from AKHERON right here.