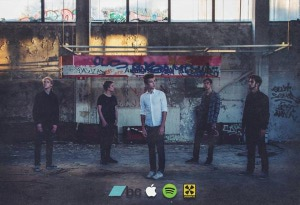 EDGE OF HAZE is a five-piece metal band from Espoo, Finland. The band combines progressive elements with strong melodies and deep atmospheres in their music. Edge of Haze has been operating with a full line-up since 2010 and all the members have a wide musical background. In 2012 the band self-published their debut album Mirage which got them exposure and great reviews in Finnish media and the metal community worldwide. In 2013 they played a run of club gigs in Finland, a festival show in Nummirock and recorded their new album , Illumine, at Sonic Pump Studios in Helsinki.
Finland's EDGE OF HAZE are set to release their new album Illumine on August 21 2014. While the band may have roots in doom metal and gothic rock, they do not lack originality. They bring forth their atmospheric music with a touch of modernity.
The album is loosely based on the book Escape From Camp 14. The novel is about a man dwelling in a dusty city under totalitarian regime who realizes his submission to this way of life. After seeing a vision about his city burning, the protagonist decides to attempt an escape and set out to find the landscape of his soul, however he finds it very hard to disconnect from the past.
EDGE OF HAZE is especially recommended to fans of bands such as modern day KATATONIA, SWALLOW THE SUN, JUNIUS or GHOST BRIGADE.
EDGE OF HAZE is:
Markus Hentunen – Lead Vocals, Guitars
Eeero Maijala – Bass, Growled Vocals, Guitars
Janne Mieskonen – Drums
Lenno Linjama – Guitars
Akseli Savola – Keyboards