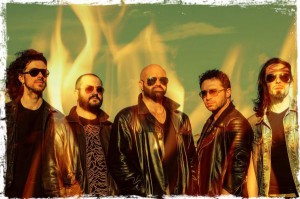 ECNEPHIAS is an Italian extreme occult metal band born in Potenza, Italy, in 1996 thanks to frontman vocalist/guitarist Mancan, but the first work was released only in 2005. As of today, the band's releases are 2005 demo "November", 2007 full-length "Dominium Noctis", 2008 EP "Haereticus", 2010 full-length "Ways Of Descention", 2011 full-length "Inferno", 2012 CD compilation "Cold Winds From Beyond" and 2013 full-length "Necrogod" with Sakis (Rotting Christ) as guest and gained the band esteem in the scene.
The year 2015 means a lot to the band: it is the first anniversary that celebrates 10 years from the first ECNEPHIAS' release. For the event the band will release "Ecnephias" that is the 5 th full-length album and the third act in a "trilogy" that began with "Inferno" and continued with "Necrogod". My Kingdom Music captured the great essence and potentialities of this band and offered them a contract.
The band signed it and released "Ecnephias" in February 2015. The success of the album was incredible and the result was a new collaboration between My Kingdom Music and ECNEPHIAS and it leads to the release of the 6th creation of the band titled "The Sad Wonder Of The Sun", an album that will confirm them as one of the darkest Metal band around and that, one more time, will surprise the listeners and the band's fans for the obscure and mystic power of their music and themes.
Line Up:
Mancan: Vocals, Guitars
Nikko: Guitars
Khorne: Bass
Sicarius: Keyboards and piano
Demil: Drums
https://ecnephias.bandcamp.com/