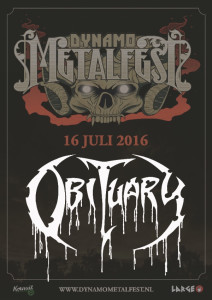 With just days to go before Dynamo Metal Fest rocks Eindhoven to it's core, there have been some last minute adjustments to the line up. Due to an accident involving drummer, Sal Abruscato, LIFE OF AGONY have cancelled their appearance at the festival. Obituary will replace them on the bill, stepping up to the plate with just over a week's notice.
Dynamo Metal Fest's Tjerk Maas comments:
"Earlier this week we got the unfortunate news that LIFE OF AGONY had to cancel, and we've been working around the clock to find a replacement since then. Getting a band that is similar music-wise is not possible; LIFE OF AGONY are one of a kind. So, we are very stoked that we can announce Obituary can step in and will perform on the same location they played in 1991. Given the short notice, it was quite a challenge to get a band of such stature who weren't already playing a show – and Obituary have gone to great lengths to reorganise their travel plans to make this possible. We're all excited to see their show!"
Hailing from Florida, USA, OBITUARY were a pioneering force in the formative years of the death metal genre. Whilst their debut album, Slowly We Rot, is hailed as a classic in the scene, the band's three decades of service have delivered countless slabs of death metal genius, including their most recent album, 2014's Inked In Blood.
The full line up for Dynamo Metal Fest is as follows:
Anthrax
Metal Church
Sacred Reich
Obituary
At The Gates
Textures
Power wolf
Audrey Horne
Extremities
Dynamo Metalfest takes place at the lJsspoertcentrum ice rink in Eindhoven on July 16. For those wishing to travel from the UK, Dynamo have partnered with Argon Events to offer fantastic weekend coach packages. Full details HERE.
Tickets are available online through Ticketmaster and you can get physical tickets at the Dynamo venue during office hours.