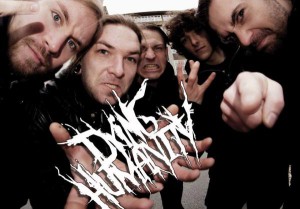 Can you still differentiate between all of the genres and subgenres of heavy music? Without pigeonholing, DYING HUMANITY calls a spade a spade – Metal. Founded in 2006, the band showed a first sign of life with releasing the MCD The Origin of Dying Humanity. Restrain Records took notice and published the debut Fallen Paradise in 2007. With recording at the well-known Rape of Harmonies Studio (Heaven Shall Burn, Narziss) and the mastering getting done by producer Jacob Hansen (HATESPHERE, ABORTED), DYING HUMANITY got a good start and acquired a loyal fan-base through diligence and sweat.
The new experiences came benefiting to the new album Fragments of an Incomplete Puzzle (2009), which was mastered by Alan Douches and obtained a nice artwork by Brazilian Gustavo Sazes (ARCH ENEMY, KRISIUN, GOD FORBID). The record received some international attention, leading to gigs in German bordering countries.
The follow-up Living on the Razor's Edge (2011) was the first concept album of DYING HUMANITY, telling the story of a woman living through the shady sides of life. This trip into the depths of human reality was mixed and mastered by Jörg Uken in Soundlodge Studio. Gustavo Sazes completed the result with an impressive comic artwork.
The recordings of the fourth album began at the end of 2013, but could not be finished at first, because the former singer and bass player dropped out. Nevertheless, the album was finally concluded after the new members completed the band in the middle of 2014.