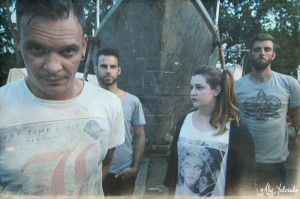 Take a walk on the wild side with the next big thing from France… Putting together many influences, DWAIL works hard in order to create a unique mixture and their own personal sound. With heavy, fast, "rock'n'roll" and dissonant tones, or groovy and deconstructed structures, the band plays within a wide range of sounds, which allows their music to evolve from song to song and offers a varied and punchy Rock'n'rollcore. An otherworldly electric energy radiates from their lead screamer Yannock and the extremly talented (21 year old) girl Léa on the drums!
"Monstro" their first EP, released in 2006 introduced the band to the local metal scene. They performed in every part of France, in Luxembourg and in Switzerland, in venues such as La Locomotive in Paris or Le Bikini in Toulouse, opening for bands such as Gojira, Amon Amarth, Septic Flesh and many more…
Their first album "HELTER SKELTER" was released in 2011 on the label Klonosphere / Season Of Mist. This time, the band called on LOGAN MADER (Gojira, Soulfly, Cavalera Conspiracy…) for the mix and the mastering of the album. With this record the band performed more than 40 shows in France ( chosen for the Hellfest Battle ) and confirmed their potential as a crushing live band!
"The Human Concern Part One", first chapter of their new album named "The Human Concern", will be released on 3 June 2013, once again by Klonosphere / SOM. It will be followed by a tour starting in Septembre 2013!
The idea behind this album was to deal with ufology. It tells the same story but from two different angles. "The Human Concern Part One", which is the first part of this project, will tell the story of what looks like to be an attack, from a human point of view… The organic, abrasive and explosive sound of this first chapter makes it a unique experience.
Band:
Yannock Sans – Vocals
Matéo Arrestier – Bass
Julian Gretz – Guitars
Léa Constantino – Drums