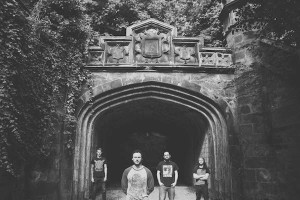 DVNE (pronounced Dune) have toiled away at Asheran – a 60 minute tapestry of music; an epic narrative following the tale of the rise and fall of civilisations, the return of an empire thought millennia lost, and the world-spanning events that unfold as a consequence.
Rich with themes of science fiction, environmental issues, and both dystopic and utopic visions for the future of humanity, listeners can expect the album to bring the pure heaviness vaunted on DVNE's previous album, Aurora Majesty, whilst at the same time being tempered by the combination of more mature progressive, genre-spanning, and often at times melodic song-writing the band are quickly making their hallmark approach.
Recorded at Chambers Studio in Edinburgh, and mixed and mastered by Tom Dring at Vagrant Studios (Dragged Into Sunlight, Venom Prison) – who also worked on the band's previous releases – the 2-Disc Vinyl Edition of the record will be released through Wasted State records on July 28.
Formed in 2013, DVNE's only Scottish roots lie with drummer Dudley Tait, with Victor Vicart (guitar, vocals, keys) hailing from France, Dan Barter (guitar, vocals) from England, and Anderson Fry (bass) from Germany.
Having released their debut EP Progenitor in 2013, and their follow up Aurora Majesty in 2014. DVNE quickly began to make a name for themselves in the UK and around Europe, having shared stages with Inter Arma, Crowbar, Dragged into Sunlight, EyeHateGod, Mantar and Downfall of Gaia, as well as carrying out two European tours with Trudger and Fange.
During this time, DVNE continued to develop their sound. Always looking forward and not content to simply repeat past releases, they set to work on their most ambitious work to date, Asheran.