Italy's DOGS FOR BREAKFAST started in 2009 as a three piece instantly defining its shape as a band with a sound located somewhere between hardcore and metal.
After a few months of activity, and after a European tour, the band released their first EP "Rose Lane was Tucker's Girlfriend" on Subsound Records, produced by Giulio "Ragno" Favero (Zu, Il Teatro Degli Orrori, One Dimensional Man) and with the special featuring of Luca Mai from ZU and Mombu.
With the passing of time and a growing experience DOGS FOR BREAKFAST's sound and style started evolving again into something richer in shades and elements. The beginning of 2013 saw the band going back to the studio, this time with Massimiliano "Mano" Moccia and the important help of Gionata Mirai (Il Teatro degli Orrori, Super Elastic Bubble Plastic, Gionata Mirai). The result was a much more mature album, even more complex and aggressive, pushing the whole project towards an extremely personal sound, rather difficult to categorize.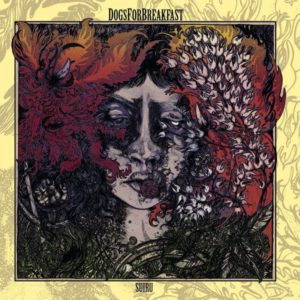 A continuous live activity saw the band performing on many Italian and European stages and after several shows DOGS FOR BREAKFAST entered the studio again, this time to record material for a split with Bologna Violenta, eventually released on Escape from Today, Dischi Bervisti and Overdrive Records in 2015.
After a couple of years break, the three-piece entered the studio in 2018 to record "Suiru", their second full-length album. Nearly four years since their last release, the "Dogs For Breakfast / Bologna Violenta" split album, Italian noise mongers DOGS FOR BREAKFAST return with "Suiru", a jarring dirge in 8 movements that sees the band further evolving into an animal all of its own.
The album represents yet another pivot point in the band's sound, a further departure from the hardcore-metal focused songs of their early releases. On"Suiru" the group delve deeper, and darker than ever before. This vicious full-length may be the group's quintessential statement of violence and despair made sonic.
Drawing from not only the desperate noise and post hardcore sonics of the 90's and early 2000's, DOGS FOR BREAKFAST have mixed in the decidedly darker tone and presence of extreme metal, expertly captured by Dano Battocchio at O.F.F. Studio and Deepest Sea Studio, with mastering provided by Brad Broatright at Audiosiege (Obituary, Tragedy, High On Fire and many more).
https://www.facebook.com/dogsforbreakfast/