DIORAMA is a German electropop band. The name of the band is a metaphor which represents their notion of music as an artistic form of expression." This is wiki! And now? Actual record "Tine Missing Fragments" and hot new video "The Minimum". Here is great preview: "The video was shot in a country house near Granada / Sierra Nevada. and although it might look like yet another corona style socially distanced in-house concoction by some lone wolf, it was actually recorded this january before the whole thing got rolling. and strangely enough, this idea of the song to hit the brakes, to try and disengage from the toxic principle of "higher, faster, further, more" materialized. in a way that we couldn't have foreseen. so, after reality has opened up an unintended access to the song, it's our pleasure to share this little video we made with you, hoping that its atmosphere does justice to the message. right in the middle of a time when many things (especially in our culture/event/artist sector) continue being reduced to: the minimum."
Interview: Torben Wendt – Vocals
Torben, how are you today? Please, tell me more about the quarantine in Germany, what are you allowed and not allowed to do? How are the bands coping it? How are DIORAMA keeping in touch with each other? By the way, I saw your special show from homestudio… It was very sympathy and truly…
First of all, we're doing alright, nobody is seriously ill. Yes, we're struggling due to the fact that physical concerts are still not allowed for the time being, but we're also seeing light at the end of the tunnel, even though the tunnel is somewhat winding. And a new digital concert project is keeping us busy. What's allowed and not allowed is being adapted on a monthly basis in Germany. Politicians are trying hard to find reasonable compromises. Sometimes a little too hard.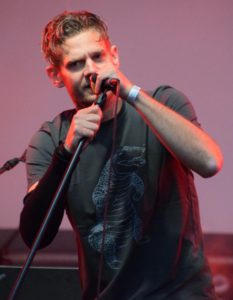 Looking at the band's discography a little more, you could see the band starting to shift stylistic approach and grow by the time. What record was important for evolution of DIORAMA? It was "Cubed" album? Can you briefly describe the evolution through the different albums?
We came from a romantic and elegiac background when we started out with "Pale", with piano lines being the backbone of our songs. Over the following albums, our sound became more electronic, more experimental, more robust, more complex, more artsy fartsy. You could argue, that albums like "Her Liquid Arms", "Amaroid" and "Tiny Missing Fragments" have had more of a turning point character than others and thus a special significance. On the other hand, every album has left an indispensable mark and is intimately connected to our career.
You've got the new album out called "Tine Missing Fragments". How do you think it compares to be previous one "Zero Soldier Army"? How are the general feedback?
I've never really felt the urge to compare the two albums, to place them side by side on an analytical level. During the "Zero Soldier Army" era, I found myself in a dead end, mentally and musically – don't get me wrong, I'm at ease with the album but you can tell by listening to the songs, there was a high degree of anger and a low degree of perspective. The following steps were an attempt to break out, to reinvent the band. So "Tine Missing Fragments"became rather a new beginning and not so much the continuation of a logical series.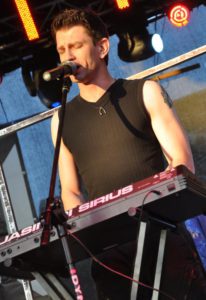 You've actually been writing the album over that four years or was there a certain period where you started writing?
Yes, basically a couple of months after "Zero Soldier Army" was released. New computer, new gear, new mindset and a lot of nonsensical ideas to try out.
The thing with DIORAMA is that over the course of your career, you have undergone quite interesting stylistic changes at times. So in this current run, where more recent records have done really well, do you feel that you've hit your best run of form? Do you feel pressure from the expectations from fans?
We're following directions according to uncalibrated compasses. We're allowing random results. And we're doing our best to come up with something beautiful and meaningful. And then it's extremely rewarding when we learn that people are with us on this journey. It's perfectly normal and fine that there are all kinds of expectations, but a true fan, in my opinion, doesn't exert pressure.
"Tiny Missing Fragments" is your 10th studio album since forming back in 1996. You have steered DIORAMA through every a lot of music trends and different kinds of genres. DIORAMA and your creative energy that keeps this happening, no matter what trend is popular at the moment? Do you think it is harder for bands today than is was just a few years ago?
We have always been open towards influences from fellow artists, composers, bands we like etc. Even Trends. The astonishing way Billy Eilish's debut album was produced, gave us a lot of inspiration and courage for our current album, lately. Are you asking if it's harder for bands today to get by? That I don't know. I assume there has never been a time when it was easy.

How important is evolution your music face? Every new record is different, every record is a big surprise for listeners. Is it important rule for DIORAMA? What do yout think about stricts music genres or bands?
The music we create has to convey and express something we consider as relevant, in the broadest terms. That's the only rule. DIORAMA is not en end in itself. It would be out of the question to assemble some cool tracks just for the sake of doing it and getting something out. I have better things to do. There is a motivation to avoid an artistic standstill, to look for new routes on the sky map, correct. But there's no higher duty to constantly surprise anybody. Surely, it has its advantages to be unmistakably relatable to a specific genre, but does it make life easier and more fulfilling? To be honest, the older I get the lesser I occupy myself with these questions of categories, labels, identification and so on. We have so little time on earth, it's just not that interesting.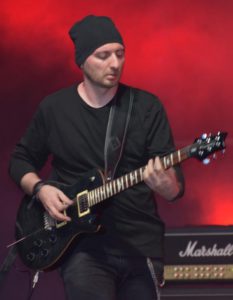 How have you find the creative process this time round? Did you find it more difficult to find inspiration? What kind of feel were you going for on the album? Do you believe that you achieved that goal?
Since we tend to look at things from a philosophical angle: philosophy never sleeps. There has always been enough material to be creative. As for feelings, we ended up delivering an homogenous combination of desperation and comfort with "Tiny Missing Fragments". I enjoy how finely balanced the two sides are.
Independent and gothic scene in Germany is very diverse. How can you define your relationships with others bands from Germany?Can we talk about a friendship? Can you introduce some new bands in scene?
The gothic electro scene in Germany is one big family. And we're the annoying nephews. 🙂 It would for many reasons be good if more young and rising artists got a more prominent representation within our music scene. A couple of years ago I was trying to support/promote the dark pop band CODE CANARY who had released a row of exceptional songs in my opinion. I still love them, unfortunately they have not been too active anymore recently.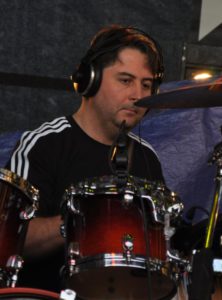 If you could take back any decision you have made in the music… Which one would you take back, and why?
I sold my original TR-505 for a ridiculous price. A big mistake to let go of this wonderful piece. I could go ahead and buy it again, but it would not be the same somehow. Besides, I learned the necessity for "backups" (stage and studio) the hard way. There were some occasions where I could have avoided a huge load of trouble.
Are there any places you would like to tour? Czech republic… It would be great! 🙂
I love traveling and mountaineering. There are many places I could name in an instant that I'd wish to explore. Concert-wise, Czech republic does rank quite high on the list, but how about Asian countries like Korea and Japan for a change? That would be a fascinating challenge.
Please, can you tell me about COMA ALIANCE? Are you satisfied with responses of  fans?
What can I tell you? Adrian and me are happy that we've finally managed to turn the old idea of a collaboration into reality by releasing "Weapon of choice" end of 2018. I'm currently developing a more and more detailed imagination of how the follow-up songs could sound like and I'm looking forward to working on them already. The reactions were a blast, absolutely. I think not only we but also the fans are waiting for the story to continue with new musical chapters. Let's give it another round.
Line-up:
Torben Wendt – Vocals
Felix Marc – Keys
Zura Nakamura – Guitar
Markus Halter – Drums
ALL