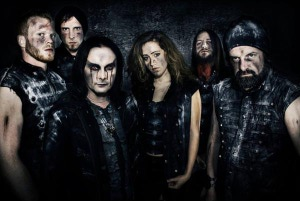 Originally formed by Daniel Finch back in late 2011 amidst a bout of religious delirium, DEVILMENT back then experienced a myriad of problems trying to hold down a stable vocalist (the rope, I believe, was never quite strong enough).
Enter Daniel's friend Dani Filth (CRADLE OF FILTH, TEMPLE OF THE BLACK MOON), who, although not entirely stable mentally, agreed to help out on a couple of tracks, having some time off from his other projects. Dani Filth comments, "When I heard what Dan Finch was doing, I just had to get my claws into it. It had a unique sound to it that was both creepy and heavy, but indelibly groovy. I instantly saw where we could take this beast…"
This then turned swiftly into a studio demo, completed after Dani finished work on CRADLE OF FILTH's album »The Manticore and Other Horrors«, in late Summer 2012.The demo, known as »Grotescapology«, featured eight tracks, which, although psychotically competent, were used solely as a backbone for a new line-up when their drummer departed to tour with IRON MAIDEN's Steve Harris, with the remaining two members blowing away in a storm one night.
Fortunately at this point, destiny, sat on a posturing horse, was proud to usher Nick Johnson (Bass), Colin Parks (Guitar), Lauren Francis (Vocals & Keyboards) and Aaron Boast (Percussion) into the fray – four extremely competent musicians who suddenly grew out of the local musick scene, much like fruitful mushrooms on a slightly rotten log (here comes the 'fun guys' analogy!).And soon the band were at full steam once more and starting to write as a combined unit.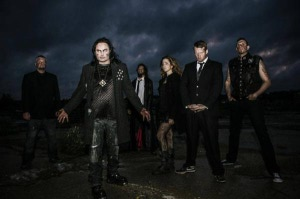 May 2013 to the present day has proved to be a very productive time for the band, having gained worldwide press via the internet, with demo tracks aired on various radio shows spreading the name to an ever-eager audience, all the while gaining fans amongst the upper tiers of Dani Filth's address book.September 2013 saw the band enter Grindstone Studios in Suffolk with Producer Scott Atkins, who has previously worked with the likes of CRADLE OF FILTH, BEHEMOTH, AMON AMATH, SYLOSIS and GAMA BOMB. The band have completed 13 tracks, which, amongst their lot, features a cover of MIDNIGHT OIL's 'Beds Are Bruning', with guest vocals coming courtesy of Dani's long-term friend Bam Margera (of MTV's Jackass and Viva La Bam fame). Bam came to be involved after Dani attended Bam's wedding in Iceland and sang a live duet with him on an ANATHEMA cover. This was after already appearing on his legendary TV show, wherein he helped destroy Bam's Uncle's living room with a JCB digger!
Dani Filth exclaims, "When I asked Bam if he would sing on it, he was instantly all over it. He went and undertook his vocals in Philadelphia with a well-known producer and now intends to put the track on his new movie, which is frankly, awesome of him". The album also closes with an orchestral rendition of 'Even Your Blood Group Rejects Me' by soundtrack maestro Spencer Creaghan.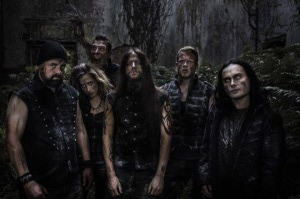 The final album, entitled »The Great And Secret Show«, is a monolith of pure unadulterated metal madness and is unlike anything that you would expect to come from the craw of Dani Filth. Classic heavy and groove-laden riffs combined with a soundtrack ripped from a Hitchcock flick, are infused with insane melodies and a roaming evil-eye for the avant garde. Plus the artwork, undertaken by Drake Mefestta, is an incredible walk-through of megalithic proportions and destined to drop jaws to the floor.
Lyrically the album is centred around the poetically macabre; part Roald Dahl, part HP Lovecraft, part Tim Burton, all Dani Filth, with songs about exonerating the Hindu Goddess of Death and Rebirth; Celebrating the band's Witch County origins; Murderously unstable relationships; Exotic cinematic women; Mind-altering Victorian drugs and the phantasmagorical beauty that exists behind the thinly veiled curtain of existence.
Thus 2014 promises to be an exciting year for DEVILMENT with a cracking debut album recorded for Nuclear Blast records; a European tour with LACUNA COIL and MOTIONLESS IN WHITE scheduled for November and with serious interest afoot, the band are poised – a fully armed and operational battle-station ready to deliver the goods amid their musical postcards from the Darkside.
Line up:
Dani Filth | vocals
Daniel Finch | guitar
Nick Johnson | bass
Colin Parks | guitar
Lauren Francis | vocals, keys
Aaron Boast | drums