What was this year's SYMBOLIC OPEN AIR FEST? True, a few months have passed since the event, but considering this conversation… it is beneficial. Dejvy Krédl had at least a distance and time to look at some of the things that, in my opinion, are worth of analysing. Anyway, I just think, Is there something on the scene what I still not dissect to the last screw with Dejvy? Today, however, it will be mainly about what the organizing work involves. And that some bands are really "naughty", you can be sure by this.
Dejvy, maybe an "unexpected"question at the beginning… How was the third year of Symbolic? Do you consider this year as a best edition? What pleased you the most this year and is there something that disappoints you?
To say it just by one word – fantastic. Really! I don't need to hypocritically praise something that does not deserve to be praised. I would be happy if fans feel it the same way, but you ask me about my subjective impression and it is mixed from feelings of enthusiasm, humility, pride, satisfaction and heady feeling as a fan. We managed to book again bands that appeared in the Czech Republic at last once in the past and bring the names, which nobody has ever seen before and all on top EXCLUSIVELY (we are most proud of that). NOT just bringing already touring bands – NOTHING like this. MORTA SKULD really flew from the United States ONLY and ONLY because of a single performance at SYMBOLIC and the same it was with INTERMENT, GOD MACABRE, DEMILICH or BENEDICTION. What we announced we did! I'm extremely proud of that. Me and Petřín do not intend to gamble with our names. We have an aim, and despite the fact they are not small at all, we are pretty sure we can fulfil them. Monies are not a priority for us, but FEELINGS. We ourselves are fans of these bands and we wanted to see them. It is such a heady feeling to enjoy them on my birthday, I can't even describe it. I have never dared dream of this! And now? Now those dreams materialize into reality. An incredibly self-destructive reality that forces us to move on. Despite all the woes associated with festival organization. The pleasure outweighed the disappointments. Fans, crew and bands were great… everything worked out! And it caused that all four days the mood on festival was saturated only by metal, friendship and human belonging. I bow in front of everyone who caused these feelings inside of me. I'll live from it all winter!
What feedback have you received so far and in which areas has been Symbolic definitely improved this year?
I do not know if I can judge this. Of course, we still have plenty of gaps. However, the reactions are generally positive, some even uncritically elevating! But you know, there were criticisms. I do not perceive them so much, because about those "issues" I have the opposite opinion – it is all about food and sound. We did our best for both and I was extremely satisfied with both. At least, you can never satisfy everyone. For some people the water will still be poorly wet and the salt will not be salty enough. About the second part of your question, in my opinion, almost everything has improved. We finally repaired the entire roof on the premises. We equipped the kitchen with a lot of new appliances, for the first time we had even an outdoor bar with a cafe. In front of the area we set up a chill out pub, added toilets, showers works almost non-stop, there was a caravan town and finally a proper lights on the stage. I think it was enough for technically "second" edition of SYMBOLIC.
You mentioned the "festival sound" … We have talked about this topic countless times. You have the word…
As I said in the previous answer, I was extremely satisfied. This is what is important for us and we took extra care. The stage was again big enough, the lights was finally representative and the sound was amazing in my opinion. Several people are working on it and honestly I can say that I didn't hear a "shitty sound" with any of bands this year. We will definitely keep the whole team that prepares sound and light for the fans for the next years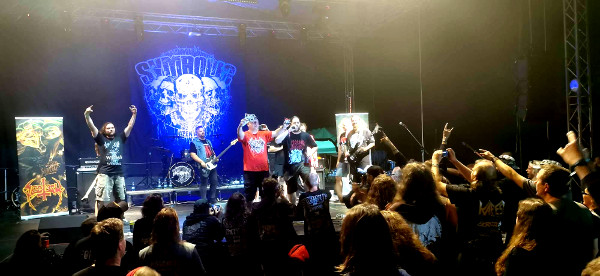 How did you enjoy the festival as an active musician? To play there is one thing but certainly the obligations associated with the organization can not be displaced from the head.
You are right. Even when you are on stage and concentrating on playing, there are still some thoughts in your head on example "you need to call the brewery and order a specific amount of beer for the next day, that I left the garbage bags in the office and I have to to tell to night shift, because they will ask me about them because they need to start cleaning up the area, that I need to refill the bar in the backstage and change a barrel which was running low before I go to the podium + that I have an idea how to improve backstage catering next year, that I forgot to tell to Petřín to make dinner for the stage technicians, that we had to prepare empty crates of pastry for baker, so he could take them in the morning when he bring new ones, that I damn have no idea where the coffee stirrers are lost, that the cooling in the outdoor bar does not work properly as I expect, and that I found some pet bottles that were thrown in the front of the area, that is necessary to leave for the night shift keys from showers at the bar, to avoid looking for them when we all want to relax after most of the visitors lie down, that I forgot to leave two marker pens at the merchandise for meet and greet with today's main bands, that the fifth light in the row on the roof is weak and is necessary to tell to the electricians to check it out, that when I see from podium, that someone going to the water, so I hope even security, who is in charge of people's safety in the area, see him as well. IT'S CRAZY, but that's how it is. On top of this as SECTESY, we performed twice at this year's edition. Everyone had a problem to play as a first, so I said to myself: "And why, as one of the organizers, couldn't support all bands, sweep the stage for them and show that although I am the owner, I have no problem play at Wednesday afternoon as a start-up support! "It was nice, but it's true that I don't enjoy playing at SYMBOLIC as much as playing anywhere else, where I only act as a musician.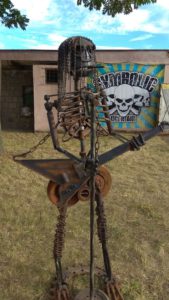 How difficult was to complete this year's line-up? Could you define the key you followed? How many fans have visited Symbolic this year?
It wasn't difficult. The idea of SYMBOLIC is clear and thanks to it we know what we want and what we don't want. The boundaries of my interest are limited only and only by my music taste. There is no other key for selecting bands. The whole SYMBOLIC is my and Petřín's birthday. The selection of bands is purely on me, that mean at SYMBOLIC there will never be a band I will not "approve"! And that's why we can proudly stand behind the line-up. We do not make a festival for fame, we do not pander, we not book a bands from which "we could have something". Nothing like that! SYMBOLIC is a celebration of what we would like to see and hear! It always will be like this! I know that this eliminates success (as is widely perceived), but we don't care.
Dealing with the bands, their organizational teams and then meeting them at the festival… Is it always a kind of "riddle" for you to see how they will behave? Or do you have some special sense and you can estimate easy going people and they behaviour?
I admit that I wanted to avoid a similar question because the topic of "band behaviour" is unfortunately a bit disappointing, not only for me but for the whole SYMBOLIC team that comes into contact with the bands. Everything is about people and always will about people. The churl always remains the churl, same as a well-behaved person always say greets and thanks. Fortunately, there are not many people in the metal community that I would not want at our festival. My goal was to provide to the bands maximum possible support. I want the bands on our stage feel same as I want to feel there. I probably haven't been faced by opinion, that we doing something wrong in this aspect, but I regret the behaviour of some smaller bands that on the big stage they get a impression that THEY are the stars and all fans came because of them and we should to treat them in that way. This doesn't work for me, because I do not differentiate bands according to size, every request is fulfilled, if it is submitted in a decent form, worthy of an adult individual. But if you ask about our headliners (and that we've had enough of them in the last two years), they were all extremely polite. It is also given by age. Our headliners are no longer unprecedented adolescents and are well aware of their position, so they really don't need to prove anything to no one and they don't have to do from themselves something, what they are not.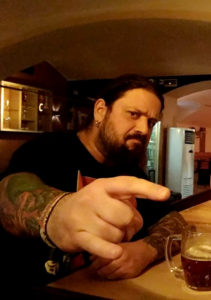 So if you hate the manners of some "would-be stars", is this one of the criterion why some of the bands will never perform at Symbolic? Despite the fact you like their music as much as possible?
The absolute truth! So far, these are mostly only domestic bands. These bands have "STOP" (even if they will pushed by any one )! But it's not just about home bands. Unfortunately, the behaviour of some potential headliners assured me that we will never address these bands again. It's all about the equation offer / demand. Bands are offered and I demand them. If we do not cross our visions and demands, it is just time to wish good luck each other and move in another direction. I do not feel grudge against anyone, I do not need to think about it, just some courtship are successful and some not. We are simply moving on and addressing more and more musicians that we would like to see on our stage.
I was at Symbolic last year and I really enjoyed the friendly atmosphere that prevailed there. Do you think is because of the fact that there are essentially companions that are connected not only by music but also by a certain "norm of behaviour"? What do you think of today's younger fans? Can you empathize to their vision of the scene?
I guess I can't. It is true that the "younger ones" have not experienced the scene which been here long time ago. They even were not born, WHEN even the performing bands travel to the concerts by train !!!!!!! Previously there was no Facebook, there were no platforms with music, actually there was no internet at all. The concert was something like a mass chat. This is where people met and talk. Everything was delayed. There were just classic letters or phone calls. NOTHING MORE !!!!!! There were no mobiles! If something happened, only way how to know it was in concert you visited. People got to know each other because someone introduce them and they shaking their hands. Not like now when you can just send friend request on Facebook. There was no way to contact someone immediately. Fanzines were released several times a year, and it was actually the only way to learn about the scene. I think today's young fans have it hard. They must learn to filter a huge amount of information. They must learn to break down the anonymous mailbox behind which they are hiding on the Internet and learn to communicate face to face. I don't envy them. For myself I can say that I am glad that SYMBOLIC is able to evoke in people the feeling of old times when people wanted to talk to people and listen to them. We are an old school festival and we try to be it in every aspect. I like to talk to people and I am doing it even on the stage – no information on the screen next to the stage. NOTHING LIKE THAT! You will never see this at SYMBOLIC. I am responsible for running the festival, so I always prefer to climb the stage and say what I have in mind. This is how we want to run and present our festival.
Do you consider other festivals as a competition or you don't care too much and follow your own line? Is it possible to discuss the ideal date of the festival with other promoters so that you do not still your fans each other? Would you be interested about some deeper communication?
It is almost surprising how we can "sit and talk" with some home festivals. Really! Of course I am not a newcomer to the scene and I know all the other Czech promoters personally for many years. I played with DESPISE or SECTESY at their festival, or they played at my festival. We meet, help each other (Hard And Heavy Specials – radio show moderated by Dejvy) be a clear proof of that). Of course we are all competition, but hand on heart – can this be done for money? We all are just "heart-beaters" and we just fulfil our dreams. In this aspect, I am closest to the guys from CZECH DEATH FEST and of course Čurby from OBSCENE EXTREME, where I have been playing warm up disco party for almost 15 years without a break or after party. We share flyers with Vláďa and his NICE TO EAT YOU fest so we can help each other. I have no problem to promote GOTHOOM, ENTER THE ETERNAL FIRE FEST, INFERNAL or BRUTAL via radio. As I say, we are closer with some, with some cooperation being cooler, but that there would be something like a competitive struggle? I do not think so. With terms is sometimes more difficult. It's not just about making a deal. It is also about when it is possible to rent the premises where the festivals are held. We follow and try not cross our terms, but it is not so simple. Holidays just have a limited number of weekends and you have to fit into them. It happens that three smaller festivals are planned for one weekend, but otherwise it simply cannot be done. We can regret, but it is how it is.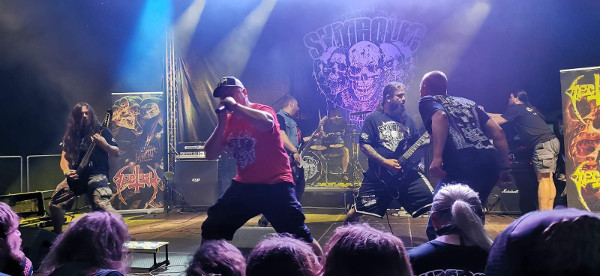 You have already announced in advance that Symbolic said goodbye to the areal Tři Dvory. Do you have any alternatives for next year? Would you like to continue Symbolic around your native Kolín, or we can expect some big moving?
Unfortunately, here it is not about what I want and what I do not want, but about what will and will not be possible. Doing a festival is not just about getting a few bands and build the stage somewhere. We knew very well right from the beginning what was waiting for us. Of course we would like to keep the festival in Central Bohemia, but today we know that probably this will not be possible – even the effort we invested will not change it. Unfortunately, we still do not have the area (but we do not give up and we are still looking for new area), and nervosity coming up to the surface of course, Because for 2020, we managed to book a headliner, which was absolutely crucial to me. I could say that American BRUTALITY is actually my most dreamed band ever. And top on Swedish WOMBBATH, Finnish CONVULSE, with old school set on top will come to Czech Republic for very first time, as well we have booked DEMONICAL, HECATE ENTHRONED + other bands I really wanted. But so far there is no spot, so there is no place where to bestow festival head. And that fills me with big sadness … Anyway, we really do everything to organize next SYMBOLIC! But no worry it will happen , even if it should be on some temporary place before our next "anchorage".
ALL