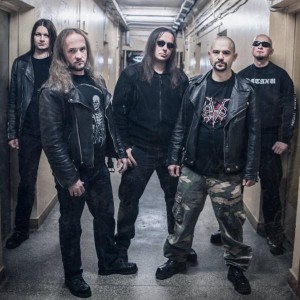 The beginning of DEIVOS was 1997/98. In 1999 the band recorded their first demo €œPraised By Generations€. The works on the next material started in 2001. At the beginning of 2003 the mini cd "Hostile Blood" was recorded. It was enthusiastically accepted in the underground and was released in autumn 2003 by Butchery Music.
In 2004 the band started to write new material for their first record which was ultimately recorded at the turn of January and February 2006 in Hertz studio. The record entitled "Emanation From Below" was released in Poland by Empire Records in November 2006. Thanks to Metal Mind Production, in January 2008 the record was released in Europe and in March 2008 in the USA.
At the end of 2008 the band once again entered Hertz studio to record their second album "Gospel Of Maggots". Thanks to this release Deivos signed with American label – Unique Leader which in February 2010 released the record worldwide. With new line-up in February 2011 the band visited famous Hertz Studio (DECAPITATED, VADER) to record their 3rd full length effort €œDemiurge of the Void". In September 2011, the album was released by Unique Leader Records.
New album
Theodicy€ was recorded between July and November, and mastered December 2014 in Zed Studio with producer Tomek Zalewski. The follow-up to 2011€™s Demiurge Of The Void€ was recorded in the same line-up: Hubert – vocals, Tomek- guitar, Mscislaw-guitar, Kamil – bass, Krzysiek – drums.
DEIVOS music is technical and brutal death metal inspired by some of the best bands of this genre: MORBID ANGEL, SUFFOCATION, CRYPTOPSY.
Discography:
Praised by Generations (1999)
Hostile Blood (2003)
Emanation from Below (2006)
Gospel of Maggots (2010)
Demiurge of the Void (2011)
Theodicy (2015)
https://www.facebook.com/Deivos