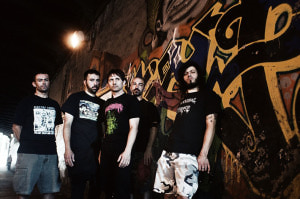 Members of DEGENERHATE are in the music scene since 1989,DEGENERHATE was started by me,Gianluca Lucarini, in 2002, in Rome. After some years away from extreme music scene, i felt the need to return to the sound i loved. I called two old friends, Max Varani for the vocals (ENTHRALMENT, CORPSEGOD, CorpseFuckingArt) and Fabio Fraschini for the bass guitar (Desecration, D-Form, Enthralment, Novembre). After that, we recruited the drummer,Cristiano Rotatori. The first lineup of the band was formed. With this lineup, we recorded in 2005, the minicd "The End Has Just Begun", released by mexican label EBM RECORDS.
Over the years we have changed several drummers, until Francesco Struglia(ex FLESHGOD APOCALYPSE), joined the band. In 2010, we also added a second guitarist , Angelo Vernati , very good friend and an excellent musician , who brought a sound even more ' compact and massive to the band. With this line up we recorded our first full length album " Chronicles Of The Apocalypse". We inked an international deal, with SLIPTRICK RECORDS, for the release of the album at the end of June.
LINE UP:
GIANLUCA LUCARINI: lead guitar-screaming/backing vocals
FABIO FRASCHINI: bass guitar
MAX VARANI: vocals/grunts
FRANCESCO STRUGLIA: drums
ANGELO VERNATI: rhythm guitar
ALBUM CREDITS:
"Chronicles Of The Apocalypse" was recorded at PLAYREC STUDIO in Rome by Fabio Fraschini and the engineer Luigi Colasanti Antonelli. To offer a product to the top of the quality, the album is mastered by guru of grindcore Scott Hull (BRUTAL TRUTH, ANAL CUNT, PIG DESTROYER, AGORAPHOBIC NOSEBLEED, PHOBIA) at Visceral Sound Studio, in Bethesda, Maryland, USA The booklet of the CD, contains all the lyrics, with the exception of the two covers "Running Through The Blood" of Fear Of God and "Cannibal Ritual" of Blood. All lyrics and all music are written by Gianluca Lucarini.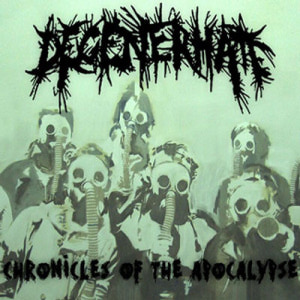 TRACKLIST:
01. Intro
02. Bushit
03. Earth First
04. War Inside My Head
05. Behind The Black Horizon
06. Power
07. All The Promises I Have Made
08. Cannibal Ritual (Blood cover)
09. Breeding Hatred Inside
10. Fur Is Dead
11. Another You Another Me
12 Last Fight
13. New World Disorder
14. No Excuses Anymore
15. Running Through The Blood (Fear Of God cover)
16. Under The Same Sky
17. Song Of Hate And Destruction
18. Turn Off The TV Turn On The Brain
19. Outro