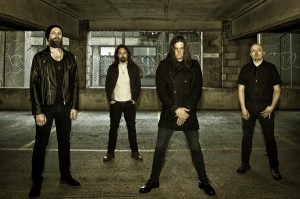 DEATH THE LEVELLER formed in 2016, when Ger Clince, Shane Cahill and Dave Murphy looked to start a new project following putting their previous band, Mael Mórdha, on hold. They were joined by kindred spirit Denis Dowling (formerly of CURSED EARTH) on vocals.
Creating darkly hypnotic Doom that takes you on a journey through the instinctual memory of mankind. The music and lyrics combine to open your mind to new possibilities of thought and deed. Inspired by the Death-doom scene of the early 90s, Gothic rock and a variety of other diverse sources, Death The Leveller's influences combine to produce doom metal that is at turns epic and introspective.
The band's name derives from the poem, 'Death the Leveller' by James Shirley (1596-1666) and reflects the band's desire to write music that faces the reality and mystery of life and death, without morbidity or fear. Their music seeks to explore the possibilities offered by a fleeting lifetime, with acceptance of the inevitability of death and the futility of seeking permanence in our earthly achievements, save only the possibility of the memory of righteous actions.
"The glories of our blood and state
Are shadows, not substantial things…
Men must give up their murmuring breath
When they, pale captives, creep to death…
Only the actions of the just
Smell sweet and blossom in their dust."
https://deaththeleveller.bandcamp.com/album/death-the-leveller-2