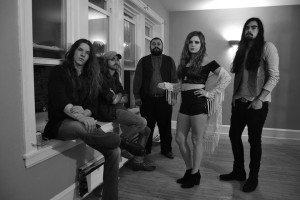 Combining elements of retro blues rock with soulful, melodic vocals and cosmic ethereal guitar, DEAD FEATHERS have already caused a sensation in the underground with their self-released demo. That demo has now been partially re-recorded, and fully remastered, ready to be released next year as their self titled EP.
Of their motivation for creating music, the band comments: "We play music because it makes us feel good and we want to share that with people – it's like a drug. We want to continue the path that generations before us have trodden…music is real and raw – it brings us closer to each other and teaches us to understand the world better – a code to live by."
Often compared to their contemporaries in the burgeoning US psychedelic rock scene, DEAD FEATHERS take influence from a broad spectrum of music; from the classics such as Fleetwood Mac, Blue Cheer and The Velvet Underground to the trailblazers of the modern era; Radio Moscow, Blues Pills, and Dead Meadow. They have already notched up shows playing with the likes of Medusa, Joy, Electric Citizen and Slow Season.
DEAD FEATHERS are:
Tony Wold -Guitar
Marissa Allen -Vocals
Tim Snyder – Guitar
Rob Rodak – Bass
Jose Bernal – Drums
https://www.facebook.com/deadfeathers/info/?tab=page_info